December 21, 2011
CONNETQUOT HIGH SCHOOL 'HABITAT FOR HUMANITY'
CLUB HOSTS INAUGURAL 5K SANTA FUN RUN!
Bohemia, NY --- On Sunday, December 11th more than 400 runners registered to take part in the Connetquot School District Habitat for Humanity Club's first-ever 5k Santa Fun Run! Habitat advisor Jason Wilans said that ",,, the Santa Fun Run had over 60 sponsors that generously supported our efforts. This event was so successful because of the support of dozens of fellow teachers, more than 100 Connetquot student-volunteers and more than 10 additional school groups."
As a result of this well-attended 'Fun Run' Jason Wilans, and Connetquot's Habitat for Humanity Club, was able to present a check to the Habitat of Suffolk County in the amount of $10,000. Wilans, extended his gratitude to all the teachers, generous sponsors, runners and volunteers that played such an important role in this year's successful Fun Run. Interest in this year's 'Run' was so keen that runners came from as far away as Brooklyn to the west, and Quogue to the east!
Santa stationed himself at the finish line congratulating the runners, thanking them for their participation, and wishing one and all a Wonderful Christmas and Happy New Year!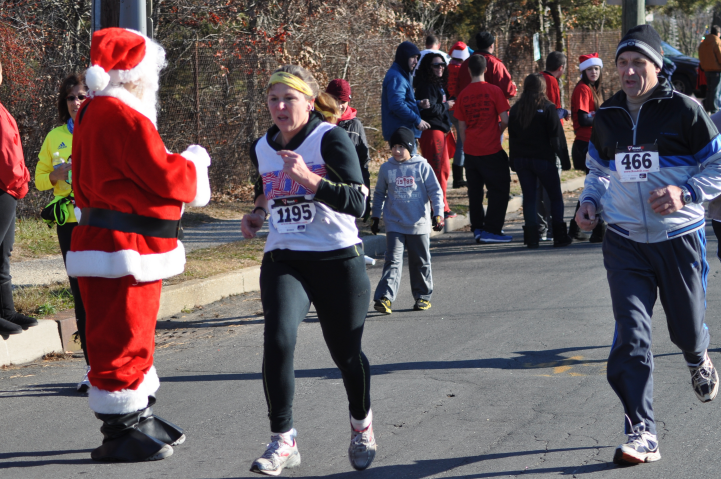 Participants in the Santa Fun Run were greeted by 'Santa' as they crossed the finish line!
(story and photos by Joe Maniaci)