November 20, 2011
CONNETQUOT TEACHERS ASSOCIATION ORGANIZES
HEART HEALTH FUNDRAISER
Ronkonkoma, NY --- Mr. Anthony Felicio, President of the Connetquot Teachers Association (CTA), recently commended the CTA members at the Idle Hour Elementary School, in Oakdale, for working with their students to raise money for the American Heart Association. According to Idle Hour Phys Ed instructor Mr. Paul Rondenella, "… each year the Physical Education staff holds a jump rope party to help raise money for the American Heart Association. This year's event raised more than $11,500; $4,000 more than last year's effort."
More than 150 students participated in this year's jump rope party, while one hundred and seventy five made a financial contribution! One special incentive for the students was that any youngster who raised $50 or more, would have the opportunity to wrap Mrs. Lowery, and Mr. Rondinella, in toilet paper at the Idle Hour School's next town meeting (assembly)!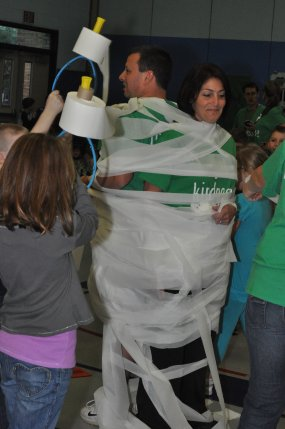 Idle Hour Elementary School's Mrs. Lowery and Mr. Rondinella being TP'd (toilet papered!) by students who raised a minimum of $50 for this year's Jump Rope Party!

Jump Rope for Heart is a program designed to promote the value of physical activity, as students make a commitment to stay healthy while supporting research to fight heart problems. This annual effort offers students the chance to learn more about community service as they help others, while committing themselves to making healthy decisions.

Mr. Felicio is proud of the effort Connetquot teachers make in working with their students for the benefit of the community. Congratulations to the professional educators, their students, and the entire community for their efforts to fight heart disease.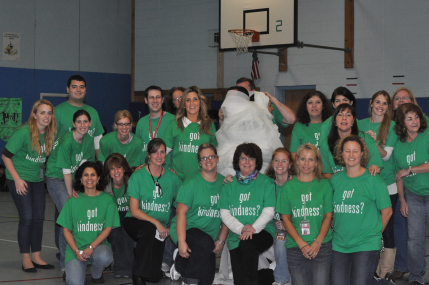 Members of the Connetquot Teachers Association took part in the 2011 Idle Hour Elementary School party to benefit the American Heart Association
(story and photos by Joe Maniaci)