November 21, 2011

CONNETQUOT TEACHERS ASSOCIATION COMMENDS
RONKONKOMA MIDDLE SCHOOL TEACHERS
Ronkonkoma, NY --- Anthony Felicio, President of the Connetquot Teachers Association, recently congratulated a group of Ronkonkoma Middle School (RMS) teachers who worked with their students to complete a project that would continue the fight to end the scourge of bullying. The RMS Anti-Bullying Task Force developed a project where students in grades 6-8 could use their writing and, or, art skills to express how they feel about bullying. Entries were carefully reviewed by members of the task force and several were chosen to be reproduced on an Anti-Bullying quilt.
18 students, along with members of the RMS faculty, worked under the direction of Mrs. Claudia Stern (Family & Consumer teacher) to create a colorful 5' x 6' quilt. This beautiful, and important, piece of concept art now hangs prominently in a heavily trafficked hallway of the Ronkonkoma Middle School. Students pass by and talk about the messages, and images, illustrated on the quilt. The project began in May with RMS students using special inks and markers to draw on fabrics.
After students stitched borders around each picture, Mrs. Stern completed the quilt by sewing the artwork together, adding the necessary batting and lining. The completed Anti-Bully quilt was presented to RMS Principal Mr. Charles D. Morea at an assembly in October, and put on permanent display on November 10th.
The following students are to be congratulated on a job well done: Breanne Benita, Esther McArthur, Victoria Quinones, Stephanie Cavollo, Amanda Ponzini, Rebecca Vicente, Nick Sestokas, Kayla Rodriguez, Emma D'Angelis, Cody Crouse, Brandon ichitsch, Nicolette Rondinella, Jessica Farrell, Chris Lemke, Jacki Smith, Mikayla Kowalevich, Monica Farmer and Olivia Stapleton.
CTA President Mr. Anthony Felicio congratulates the following members of the Ronkonkoma Middle School faculty for completing this project which will have such a positive effect on RMS students:
Mrs. Latella, Mrs. Justino, Ms. Doherty, Mrs. Edmonds, Mrs. Tomasone, Ms. Unser, Mrs. Benincase, Mrs. Padurano, Mrs. Sullivan and Mrs. Stern.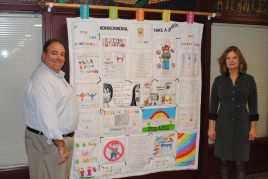 Connetquot Teachers Association President Anthony Felicio congratulates Mrs. Stern, the members of the RMS Anti-Bullying Task force and the talented students that worked together to create this beautiful quilt.
(story and photo by Joe Maniaci)