February 27, 2018
CONNETQUOT TEACHERS ASSOCIATION PRESENTS RINGS TO
NEW YORK STATE VOLLEYBALL CHAMPIONS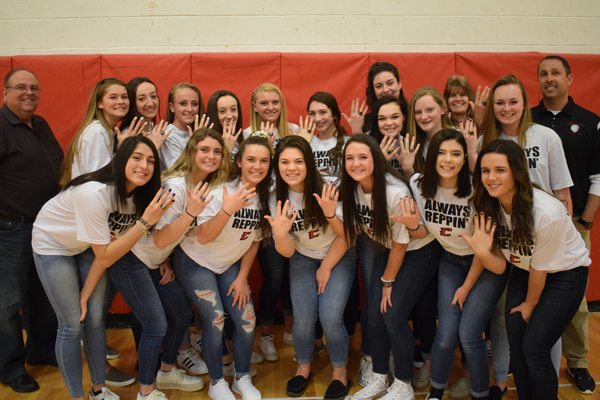 Connetquot HS Volleyball team and coaches display their championship rings as Mr. Felicio (L) looks on.
Bohemia, NY --- On November 19th, 2017 the Connetquot High School Girls' Volleyball team defeated Shenendehowa High School in Glens Falls, NY, to win their second New York State Championship in three years! At Connetquot High School on Monday, February 26th Coach Justin Hertz unfurled the school's new championship banner, as the players and coaches were presented personalized championship rings by Mr. Anthony Felicio, Jr., President of the Connetquot Teachers Association (CTA).

"Congratulations to the parents, coaches and student-athletes for this tremendous achievement," said Mr. Felicio. "It was a pleasure for the CTA to purchase and present these rings to the athletes and coaches. The girls' commitment to excellence both on and off the court speaks to their character. The support and encouragement by the parents and coaches reflects the dedication these young ladies have demonstrated in sport, and life. Congratulations, and best of luck to each member of the team, and coaching staff."

Connetquot finished the regular season undefeated (18-0) and went on to win the league, Suffolk County and Long Island Championships which earned the team another trip to the New York State Championship Tournament. While PrepVolleyball.com All-Americans MacKenzie Cole and Nicole Migliozzi were the driving force this season, according to Coach Hertz, "This year's championship is a reflection of the dedication of an entire team, determined to bring the New York State crown back to Connetquot."

Coach Hertz thanked Mr. Felicio and the members of the Connetquot Teachers Association for their generous support of the 2017 New York State Volleyball Champions!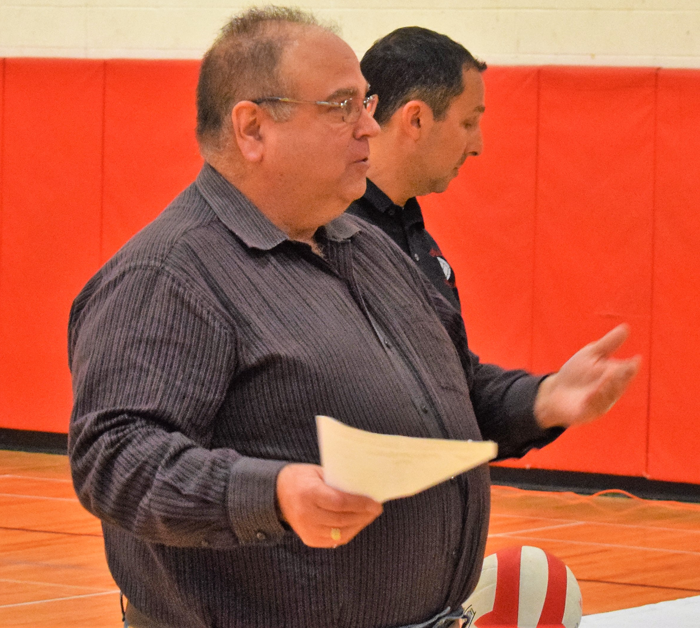 CTA President Anthony Felicio, Jr., addressed the student-athletes and their proud family members prior to distributing their championship rings, as Coach Hertz looks on.
photos by Joseph Maniaci