May 17, 2018
12TH ANNUAL SCHOLARSHIP AWARDS CEREMONY
HOSTED BY CONNETQUOT TEACHERS ASSOCIATION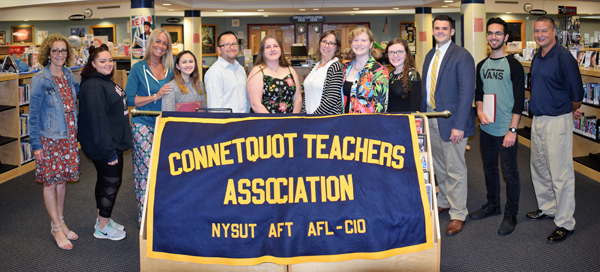 2018 CTA Scholarship winners are seen with the 'Teacher Who Made A Difference'.
Bohemia, NY --- On Tuesday, May 15th, members of the Connetquot Teachers Association (CTA) Scholarship committee hosted a reception and presented awards to the winners of the 2018 annual essay contest. Held at the colorfully decorated library at Connetquot High School, CTA Vice-President Chris Dolce and CTA committee members welcomed the selected students, their parents and the teachers who made a difference in their lives. Each of the six winning students received an attractive certificate, a copy of their winning essay, and a check for $500.

Mr. Dolce congratulated the students and their parents, on behalf of CTA President Mr. Anthony Felicio, Jr., for the outstanding essays they had submitted. The topic for the essays was The Teacher who Made a Difference in My Life. "After reading through what seemed like a thousand essays, we selected the six winners who are with us tonight," said Dolce. We hope that this $500 check will help you with tuition, books, pizza, or whatever you need as a college student to help you succeed!"

Essays submitted by the following Connetquot graduating seniors were selected as the six winning entries: Jacob DeRosa (Mr. Rob Bachisin), Catriona DiNero (Ms. Erin Rudner), Lia Hauser (Mrs. Cathy Mongiello), Brooke Westhoff (Mr. Mauricio Arias), Jaleeza Burns (Ms. Peggy Matzen) and Regbecca Moulton (Mr. Vincent Malafronte).

Mr. Dolce personally congratulated each of the winning students, and their families. The kind words the students used to describe the impact Connetquot educators have had on their lives touched the hearts of the teachers being recognized. Dolce also thanked the following CTA members who helped organize the evening's award ceremony: Joanna Zalewski, Christine Dassler, Cathleen DiPeri, Ellen Perz and Robert Bachisin.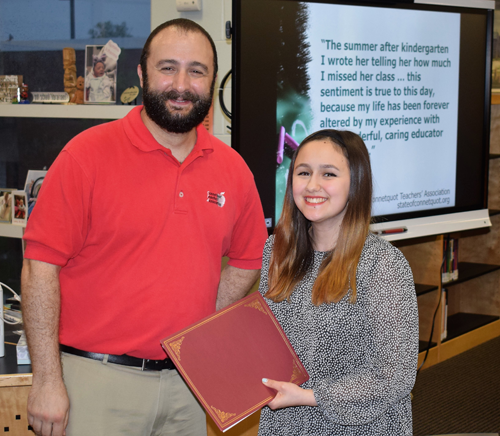 CTA Vice-President Chris Dolce congratulates Lisa Hauser.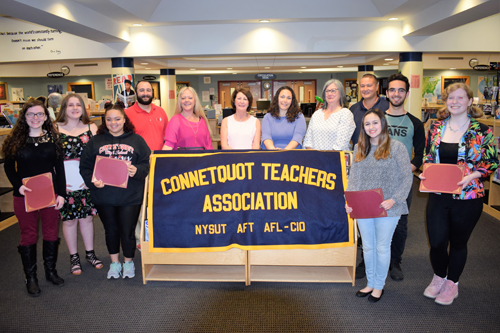 Winning essay students are seen with the CTA Scholarship Committee members.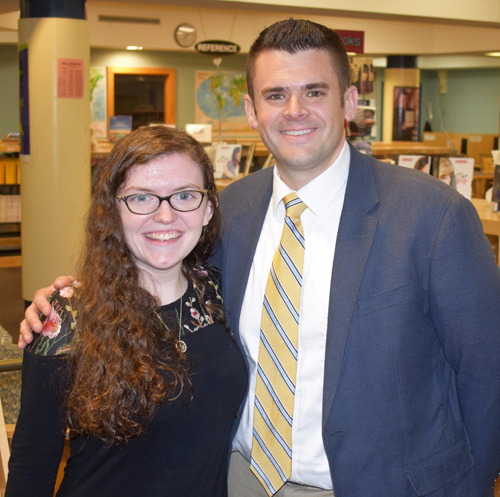 Mr. Vincent Malafronte congratulates Rebecca Moulton.
photos by Joseph Maniaci