May 18, 2016
10TH ANNUAL SCHOLARSHIP AWARDS CEREMONY HOSTED
BY CONNETQUOT TEACHERS ASSOCIATION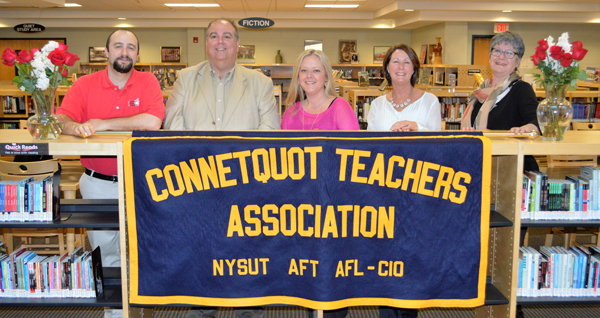 Chris Dolce, Anthony Felicio, Jr., Christine Dassler,
Cathleen DiPeri, and Ellen Perz
Bohemia, NY --- On Tuesday evening, May 17th, Mr. Anthony Felicio, Jr, President of the Connetquot Teachers Association (CTA) hosted a reception and awards ceremony for the winners of the organization's annual essay contest. Held at the colorfully decorated library at Connetquot High School, Felicio and CTA committee members, welcomed the selected students, their parents and the teachers "… who made a difference …" in their lives. Each of the five winning students received an attractive certificate, a copy of their winning essay, and a check for $500.

"I would like to express how proud we are of our teachers for being chosen by former students as the teacher who has made a positive difference in their lives. I would also like to congratulate the students and their parents for their commitment and dedication toward academic excellence," said Felicio. The topic of the essay was The Teacher Who Made a Difference in my Life.

Close to 200 essays were read and graded by a committee of CTA members from Connetquot HS, as well as the middle and elementary schools. Essays submitted by the following Connetquot students were selected as the five winning entries: Hafeza Mim (Mrs. Debra Smith), Amber Hughes (Mrs. Pat Krawczyk), Emily Farrell (Mrs. Pat Nixon), Katie Kresic (Mrs. Cheryl Sosa) and Ryann Brennen (Mrs. Christine Carino).

The Connetquot Teacher's Association has been increasingly involved in community events such as providing financial support of both boys' & girls' local sports teams, collecting clothing & snacks for the needy, raising funds for cancer research, as well the financial awards for graduating Connetquot students. The latest Connetquot Teachers Association project has been partnering with the Education & Assistance Corporation to provide healthy snacks, fruit drinks and bottled water for youngsters waiting for the parents at the Cohalan Court Complex in Central Islip.

Mr. Felicio and CTA Vice President Mr. Chris Dolce personally congratulated each of the winning students, and their families, for submitting quality essays. The kind words the students used to describe the impact Connetquot's professional educators have had on their lives touched the hearts of the teachers being recognized. Mr. Felicio also thanked the following CTA members who helped organize the evening's award ceremony: Chris Dolce, Joanna Zaleski, Christine Dassler, Cathleen DiPeri, Ellen Perz and Robert Bachisin.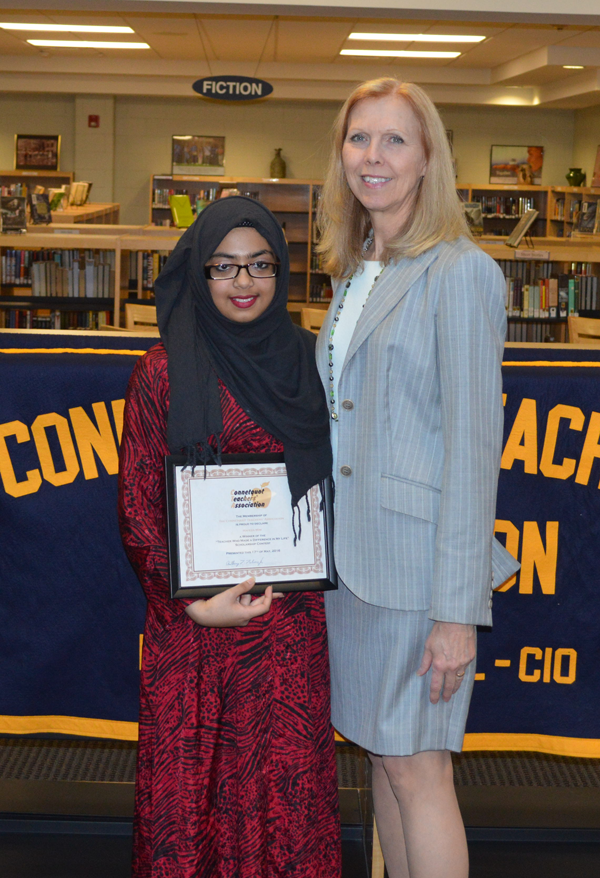 Hafeza Mim (Mrs. Debra Smith)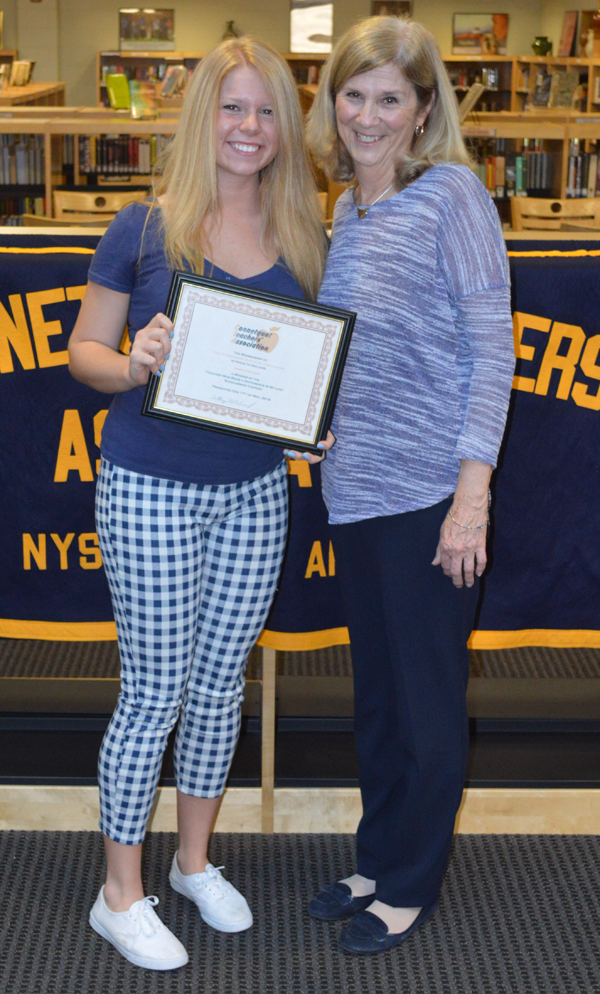 Amber Hughes (Mrs. Pat Krawczyk)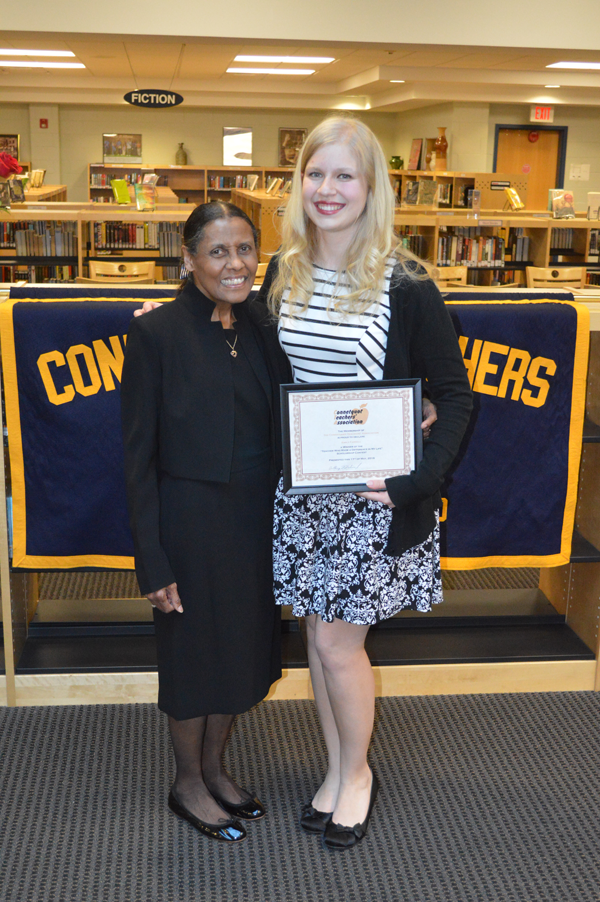 Emily Farrell (Mrs. Pat Nixon)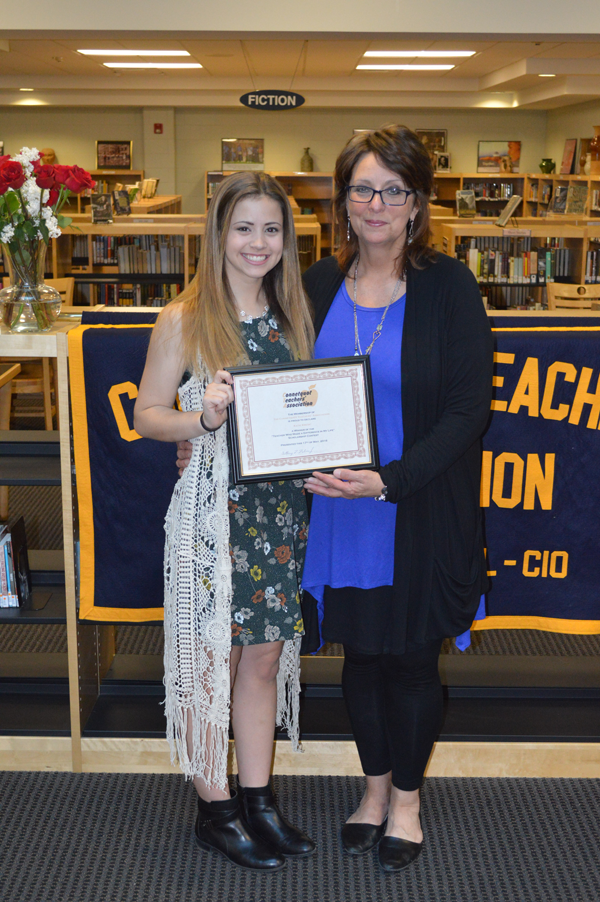 Katie Kresic (Mrs. Cheryl Sosa)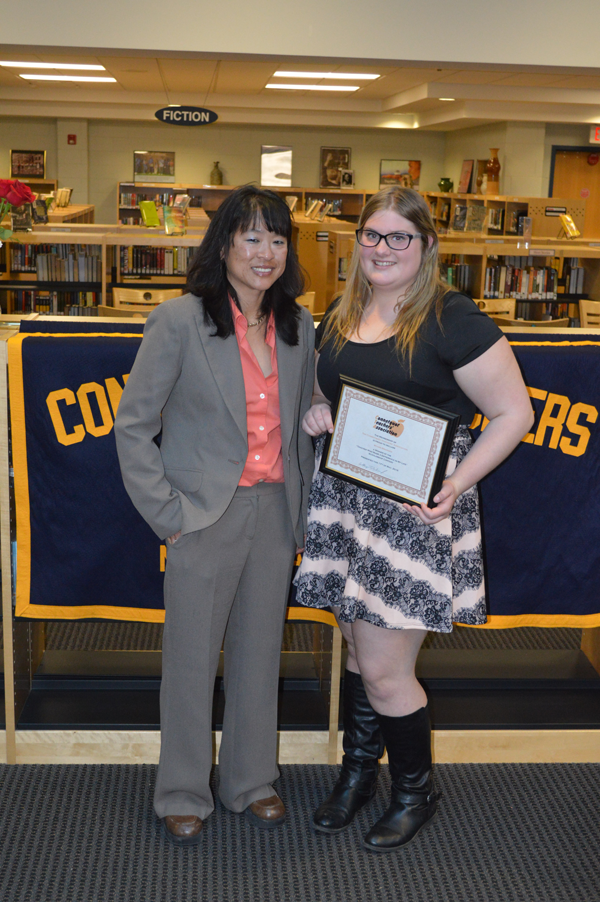 Ryann Brennen (Mrs. Christine Carino)

(photos credit: Joseph Maniaci)