March 21, 2015
CONNETQUOT TEACHERS ASSOCIATION CO-SPONSORS
MARCH 18TH COMMUNITY EDUCATION FORUM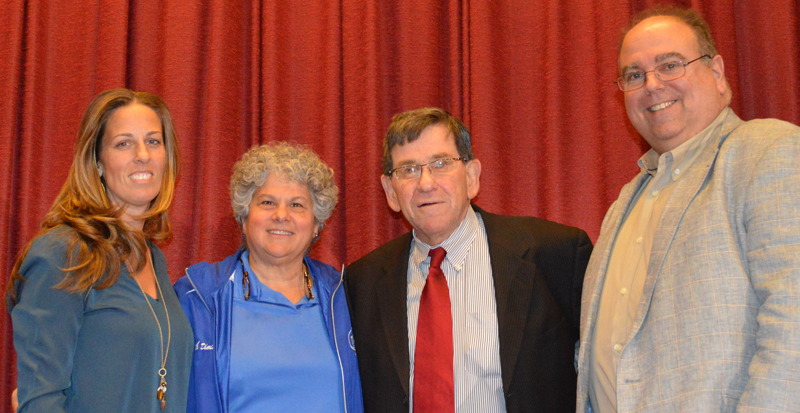 (l-r) Featured speakers: Jeanette Deutermann (NYSAPE), Beth Dimino (PJSTA President), Dr. Joseph Rella (Comsewogue Superintendent) and Anthony Felicio, Jr. (CTA President)
Bohemia, NY --- Connetquot Teachers Association (CTA) President Anthony Felicio, Jr. welcomed over 500 parents, teachers, administrators, Board of Education Trustees and one district Superintendent to the Sycamore Avenue Elementary School on March 18th. In a community education forum co-sponsored by Connetquot Parents for Education, four influential education leaders shared information, and answered questions, about the current climate in New York State related to public school students and upcoming exams.

Guest speakers included Dr. Joseph Rella, Superintendent of the Comsewogue School District; Jeanette Deutermann, Co-founder of NYS Allies for Public Education &LIOO; Beth Dimino, 8th grade science teacher and President of the Port Jefferson Station Teachers Association; Tony Felicio, Jr., President of the Connetquot Teachers Association, and Daniel Carpenter, a 5th grade student from the Commack School District.

Parents and teachers filled the Sycamore auditorium to capacity, carrying signs criticizing Governor Cuomo's education policies, and his over-testing of their youngsters. Four such Education Forums have already been held on Long Island, which have attracted thousands of parents and teachers eager to express their frustration, and dissatisfaction with the governor's education plans.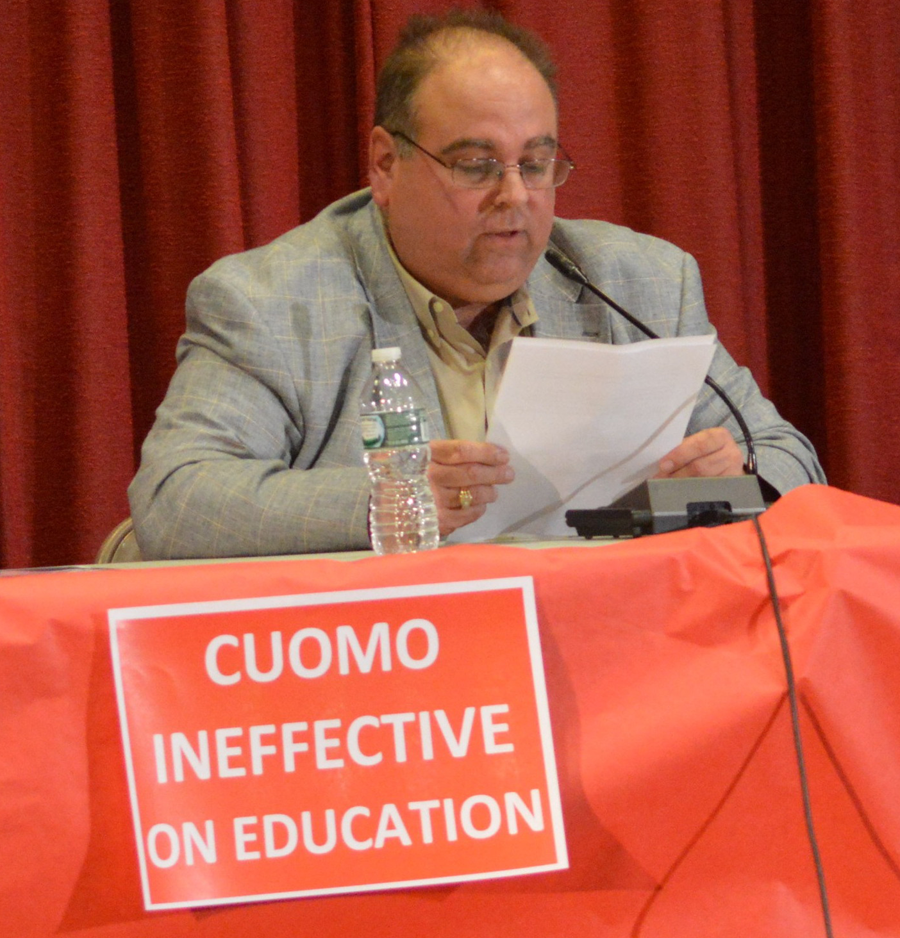 CTA President Tony Felicio, Jr., in his comments about the history of these so called 'education reform movements' said: "A child who goes to sleep at night hungry and cold, has no bed to sleep in, lives in a drug infested community, lives in an abusive household, or is surrounded by dysfunction, will not be able to learn in school. It doesn't matter what these reform ideas are called - Common Core, Race to the Top, America 2000, or Goals 2000. Children will not learn under those conditions, and to blame schools and teachers for that is just plain wrong."

Dr. Rella said that Common Core-related tests are designed so that a majority of children fail, leaving them discouraged. Beth Dimino has informed her administration that she will refuse to administer the exams. Jeanette Deutermann believes that the tests " … are not about children, but money, politics, union-busting, egos and corporate greed." 5th grader Daniel Carpenter told the audience that he will refuse to take the upcoming exams because he wants to change the system to protect other students in the future, like his own brother and sister.

Felicio went on to say, "If our politicians and bureaucrats in Albany and Washington were truly advocates for children, they would invest the money they've wasted on Common Core, and instead spend it on the root causes of poor school achievement."

Upcoming informational education forums will be held West Islip on March 30th, and April 1st at the Mt. Sinai Congregational United Church.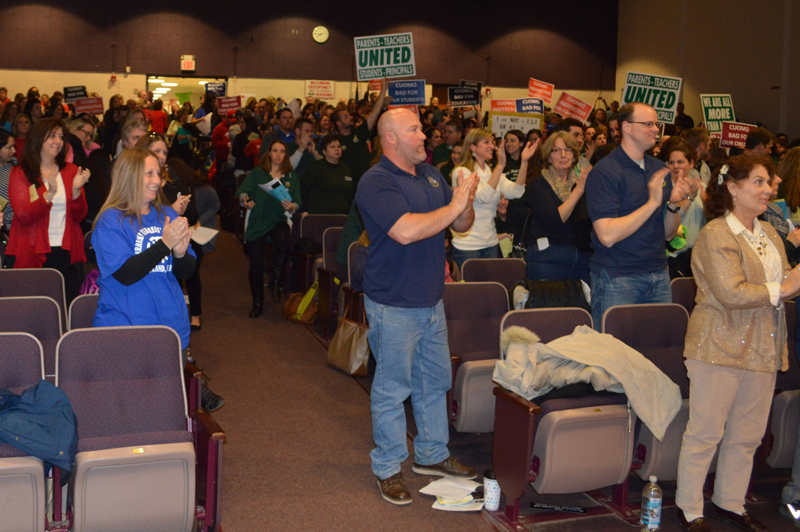 Over 500 parents and teachers attended the March 18th education forum at Sycamore Avenue Elementary School.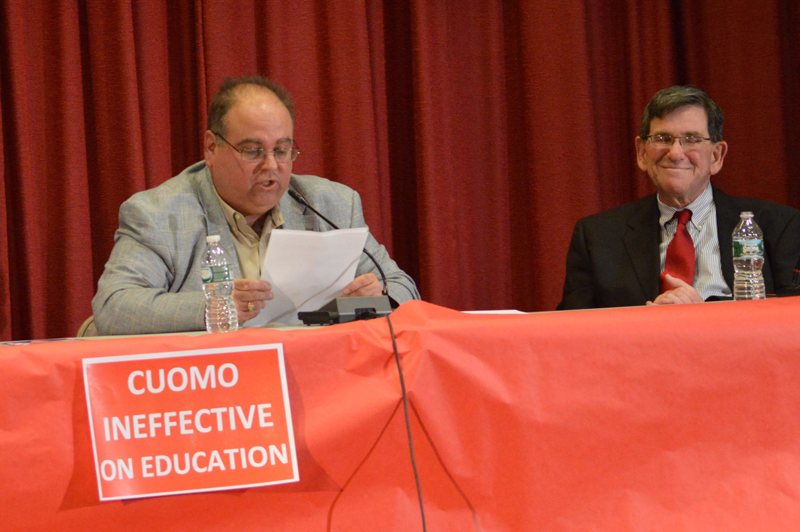 CTA President Anthony Felicio, Jr., addresses the audience as Dr. Rella looks on.
photos by Joseph Maniaci