May 21, 2015
CONNETQUOT TEACHERS ASSOCIATION CONTINUES ITS SUPPORT OF THE CHILDREN'S CENTER AT THE COHALAN COURT COMPLEX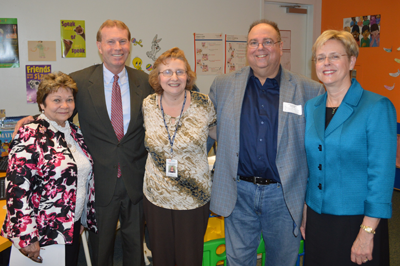 (l-r) Sarah Jane LaCova, Executive Director of the Suffolk County Bar Association, C. Randall Hinrichs, Suffolk County Distrtict Administrative Judge; Agnes Cento, Children's Center Master Teacher; CTA President Tony Felicio, Jr.; Cheryl Zimmer, Supreme Court Advisory Board Co-Chair.
Bohemia, NY --- Connetquot Teachers Association (CTA) President Anthony Felicio, Jr., was again invited to attend the May 20th Bagels and Books Breakfast at the Children's Center at the Cohalan Court Complex in Central Islip, NY. Felicio was invited by Ms.Cheryl Zimmer, Supreme Court Advisory Board co-chair, to join fellow children's advocates who have been working together with the Education & Assistance Corporation (EAC). The EAC operates the Children's Center to provide a safe area for youngsters while their families are involved in court proceedings.

For the past 9 years, Connetquot teachers have supplied children's books, healthy snacks, bottled water and fruit juices, tissues and paper towels to be used by the youngsters at the Children's Center. "Thank you to all of our Connetquot teachers, both active and retired for their continued support of our unofficial "adoption" of the Cohalan Children's Center," said the CTA President. "For us to be a part of something that enriches the lives of so many children throughout the year, and to be so appreciated by those who administer the program, is very rewarding. The work done by the employees and the volunteers at the Center is vitally important to the children. Finally, it allows families to know their children are in a safe, nurturing, environment for the time that they need to take care of business while at the courts."

The center is open 5 days per week, from 9 A.M. to 1 P.M. under the supervision of Head Teacher Agnes Cento. Last year the Children's Center serviced over 1,100 children. Connetquot teachers have also provided hats, scarves, gloves and toys to the Children's Center earlier in the year. The children leave the center with new books, and warm clothes.

Mr. Felicio added, "As teachers, we go into the profession because we love working with and helping kids. We do that every day within the school house. To be able to have a positive effect on young children outside of the classroom is very gratifying to us." Felicio has assured the EAC of the continuing support of the Connetquot Teachers Association.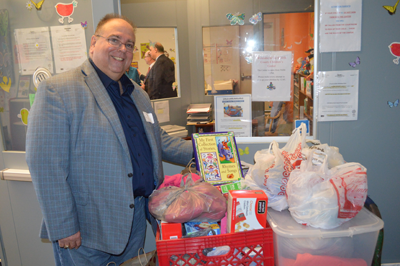 CTA President Tony Felicio, Jr. delivers several bins filled with new children's books, and supplies, for the use of the Children's Center at the Cohalan Court Complex in Central Islip.


Supreme Court Advisory Board Co-Chair Cheryl Zimmer addresses children's advocates that semi-annual Bagels & Books Breakfast on May 20th.
photos by Joseph Maniaci