April 30, 2014
CONNETQUOT TEACHERS ASSOCIATION SENDS LOUD MESSAGE TO GOVERNOR CUOMO AND LEGISLATIVE LEADERS


Over 3,000 demonstrators filled the sidewalks of Holbrook, NY, to express their displeasure of the governor's education policies.
Bohemia, NY --- Members of the Connetquot Teachers Association (CTA), district parents and supporters of quality public education were among the 3,500 demonstrators who voiced their displeasure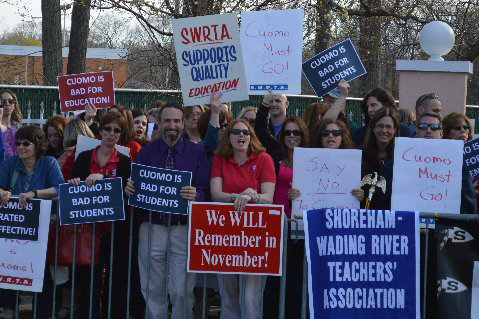 of the decisions being made by Governor Andrew Cuomo, and members of the New York State Legislature. Organized by CTA President Anthony Felicio, Jr., the April 28th rally at Villa Lombardi's in Holbrook, NY, brought together demonstrators from throughout Long Island, NYC, and upstate New York, who voiced their opposition to Governor Cuomo's "failed education policies", according to Felicio.



"We wanted to send a message, loud and clear, not only to Governor Cuomo, but to all the elected officials who support his failed education policies that hurt children, ruin our communities, and will destroy quality public education. It is clear by the turnout of like-minded, vocal demonstrators, that we accomplished our mission" said Felicio.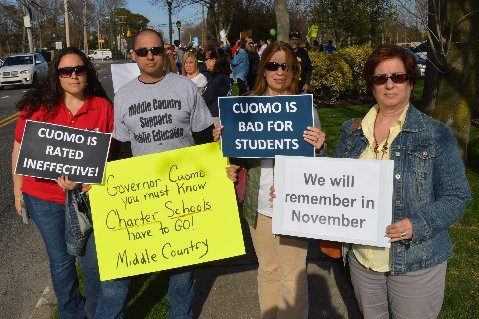 Too many elected officials have used the excuse that their votes in the legislature are the result of pressure from the governor's office. The CTA President believes it is "… time constituents put pressure on their elected officials to do the right thing because our children, our students, our professions and our communities depend on how they vote on these issues."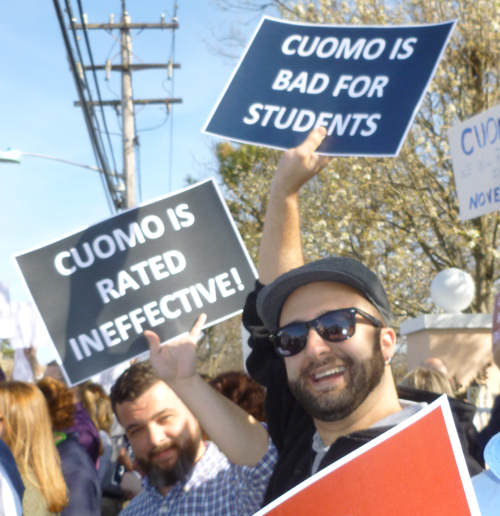 The CTA President went on to say that "… this rally is but a precursor, a warm-up, to an even bigger rally, which is scheduled for the New York State Democratic Convention being held at the Huntington (NY) Hilton on May 21st & 22nd. We will be larger, louder, and even more united than we were on April 28th."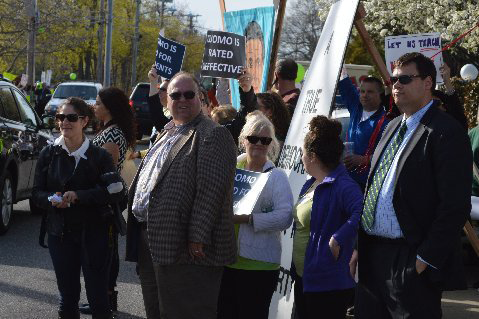 CTA President Anthony Felicio, Jr. (c) organized the rally that brought demonstrators from throughout New York state, to Holbrook, NY, send a message to Governor Cuomo.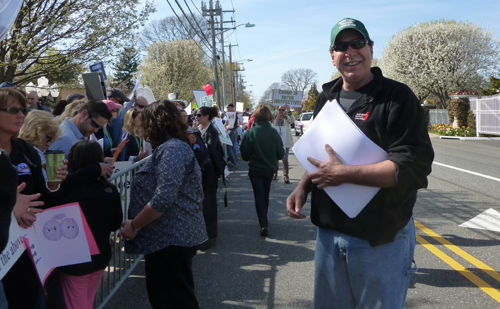 Brad Lindell giving out posters at rally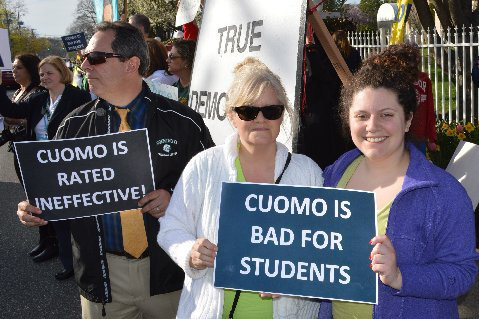 CTA members expressing their displeasure with Governor Cuomo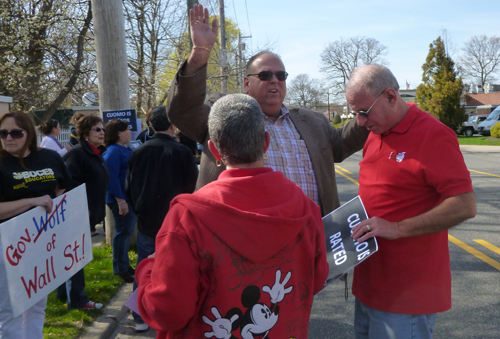 Anthony Felicio with retiree Sybil Saposnick and husband Phil


Demonstrators in front of Villa Lombardi's

photos provided by Joseph Maniaci and the Connetquot Teachers Association