May 7, 2013
CONNETQUOT TEACHERS ASSOCIATION SUPPORTS COMMUNITY YOUTH PROGRAMS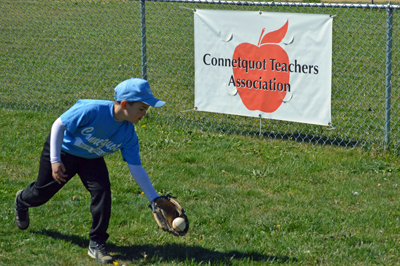 6 year old Joe Maniaci chases down a long fly ball in centerfield. Joe is a student at the Sycamore Ave Elementary School.
Ronkonkoma, NY --- Visitors to the Charles LaRosa Sports Complex in Ronkonkoma, NY, come to cheer on their children, grandchildren and siblings as they play Connetquot Youth Association (CYA) Baseball and Softball. The Connetquot Teachers Association (CTA) has again helped get this season underway by becoming a sponsor, and providing financial support for the league, and the children of the Connetquot School District.

Sponsor banners are prominently displayed on the outfield fences of the beautifully manicured fields, located adjacent to the Duffield Elementary School, in Ronkonkoma. The season got underway on April 13th with the Opening Day parade, and a full schedule of games. CTA President Anthony Felicio, Jr., said that the organization "Is proud to sponsor the youth of our community. It is gratifying to see our students participating in community activities, and to know we are a small part in helping to make these opportunities possible."

The Connetquot Teachers Association has sponsored little league sports in support of Oakdale, Ronkonkoma and Bohemia youngsters since 2007. The CTA has actually doubled its support since then by sponsoring 2 boys' baseball, and 2 girls' softball teams in the community.

The New York State United Teachers Association recently presented the CTA with the prestigious NYSUT Community Service Award in recognition of the organization's commitment to the community. Besides supporting local sports teams, the CTA provides financial grants to graduating seniors, supports the annual 'Every Child's Dream' dinner, and the Children's Center at the Cohalan Court Complex in Central Islip. This year's devasting winter weather provided the CTA with additional opportunities to assist residents of the Connetquot community with food, water and other necessities, as well as financial support.

Felicio is proud of members of the Connetquot Teachers Association because of their commitment to the students, and supporting the needs of the community. As the baseball season gets underway, the CTA encourages the youngsters to enjoy their experiences on the field, to make new friends, and to spread that sense of camaraderie and sportsmanship with one another: PLAY BALL!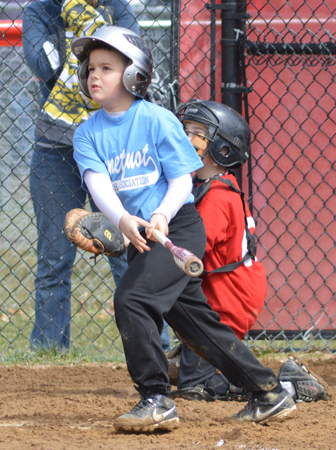 First grader Joe Maniaci watches as his long ball reaches the center field fence. Maniaci plays for the CYA 'Blue Jays', and his assistant coach is Connetquot HS English teacher Ross Castaldo.
(photos by Joseph Maniaci)