October 14, 2013
CONNETQUOT TEACHERS ASSOCIATION PRESIDENT INVITED TO TESTIFY AT NYS ASSEMBLY 'EDUCATION FORUM'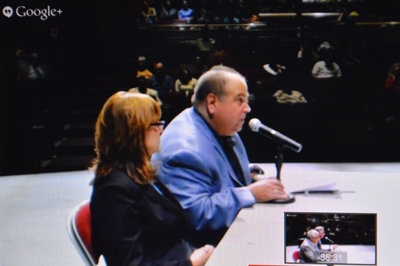 CTA President Anthony Felicio, Jr., testifies before Assemblyman Al Graf's Education Forum, held at Suffolk Community College, Brentwood campus.
Ronkonkoma, NY --- On Thursday, October 10th, Connetquot Teachers Association (CTA) President Anthony Felicio, Jr., was invited to speak at an 'Educational Forum' sponsored by New York State Assemblyman Al Graf at Suffolk Community College, in Brentwood, NY. According to Assemblyman Graf this forum was to "… take his mission for our children, parents and teachers on the road." Mr. Graf went on to say that "… for those of you who feel you were short-changed by Senator Flangan you will have YOUR say NOW!" The assemblyman asked that parents of children affected by the Common Core State Standards (CCSS) also send personal testimony to his district office.

CTA President Anthony Felicio, Jr., was among a group of invited parents, school administrators and professional educators who were asked to provide their reaction to the implementation of CCSS, and the new testing standards at this televised hearing.

Before Felicio answered questions from Assemblyman Graf and his panel, he read a prepared statement. Part of that statement read: "A child who goes to school hungry, or goes to bed cold, or lives in a drug-infested community, or comes from an abusive household … it doesn't matter what you call it – Common Core, No Child Left Behind - those children will not learn."

He went on to say "We often hear from those outside of the educational system that schools should be run like a business. Companies like Disney, Microsoft, Apple and other successful corporations, do not introduce new programs without the proper training for those professionals responsible for implementing that new plan. In the case of Common Core minimal funding has been invested to properly train the teachers who will be working with that program, in the classroom. Investing in appropriate training should be the number one priority of New York State if it expects to implement a new program such as this."

Assemblyman Graf, and his panel, thanked Felicio for his comments, and assured him that his views would now be included in the panel's final report.
photo by Joseph Maniaci via Google+