May 24, 2013
CONNETQUOT TEACHERS ASSOCIATION HOSTS 7TH ANNUAL SCHOLARSHIP AWARDS CEREMONY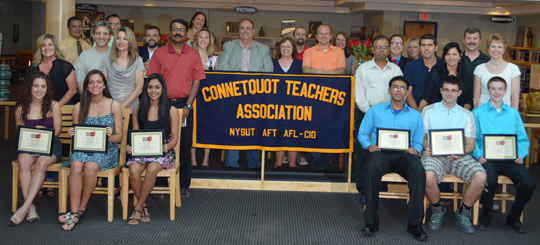 CTA 2013 Scholarship winners (seated l-r): Brianna Gianni, Alyssa Meano, Asha Antony, Shouik Dutta, Michael Caputo and Kyle Brennan are joined by their proud parents, Connetquot teachers and CTA President Anthony Felicio, Jr. (back row/center)
Bohemia, NY --- Connetquot Teachers Association (CTA) President Mr. Anthony Felicio, Jr., and the organization's scholarship committee, welcomed six students and their families to the May 21st Scholarship Presentation Reception. Held in the high school library Felicio welcomed the students, their parents, and the "… Connetquot teachers who made a difference", in the students' lives.

120 essays were submitted with the title: The Teacher Who Made a Difference in my Life. The essays were read and graded by a committee of CTA members from Connetquot HS, as well as the middle and elementary schools. Essays submitted by the following Connetquot students were selected as the six winning entries: Michael Caputo (Mrs. Patricia Culp), Brianna Gianni (Mr. Mauricio Arias), Kyle Brennan (Mr. John Hargrave), Asha Antony (Mr. Alan Fertmann), Shouik Dutta (Mr. Brian Majeski) and Alyssa Meano (Meghan Andersen).

Each of the six selected students received an attractive certificate, a copy of their winning essay, and a check for $500 to help cover college expenses.

Felicio said "On behalf of the Connetquot Teachers Association I congratulate the students who are being presented with these financial awards. I thank the parents for their support of education, and a special congratulations to all the teachers who were singled out by the students, as well as those here tonight, with the essay winners. Being part of this special event re-emphasizes the positive impact we, as teachers, have on our students. It makes me proud to be called a teacher."

Mr. Felicio and CTA Vice President Mr. Chris Dolce personally congratulated each of the winning students, and their families, for submitting quality essays. Felicio thanked everyone involved in this year's CTA Scholarship program, in particular the members of the scholarship committee: Rob Bachisin, Christine Dassler, Cathleen DiPeri, Chris Dolce and Joanna McManaman.

Besides providing financial grants to graduating seniors, the Connetquot Teachers Association provides financial support to local boys' and girls' sports teams, supports the annual 'Every Child's Dream' dinner, and the Children's Center at the Cohalan Court Complex in Central Islip. As a result of this year's destructive winter weather the CTA worked to assist residents of the community with food, water and other necessities, as well as providing financial support. The New York State United Teachers Association recently presented the CTA with the prestigious NYSUT Community Service Award in recognition of the organization's commitment to the community.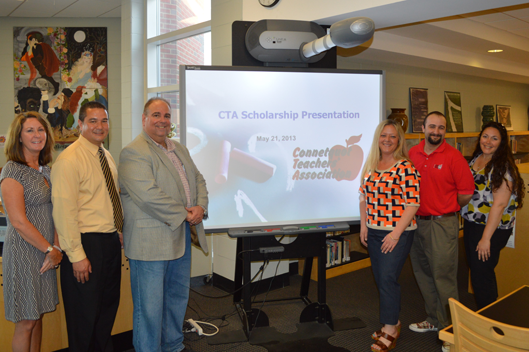 Members of the CTA Scholarship Committee (l-r) Cathleen DiPeri, Rob Bachisin, CTA President Tony Felicio, Jr., Christine Dassler, Chris Dolce and Joanna McManaman
(photos by Joseph Maniaci)