October 24, 2013
CONNETQUOT TEACHERS ASSOCIATION WELCOMES NEW MEMBERS TO THE FAMILY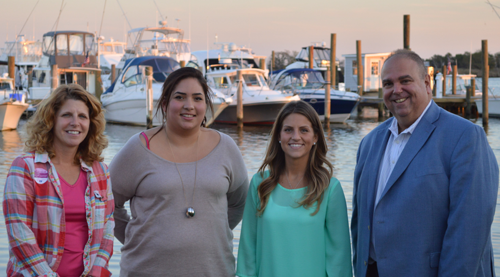 (l-r) Cathy Dolan (John Pearl – nurse), Brooke Zaiff (HS – Spanish), Stephanie Plochochi (HS – Math) and CTA President Tony Felicio, Jr., enjoy the Welcome dinner at the Snapper Inn Restaurant.
Bohemia, NY --- On Friday, October 18th, Connetquot Teachers Association (CTA) President Anthony Felicio, Jr., welcomed the newest members of the teaching family to the Snapper Inn Restaurant in Oakdale. 22 educators, probationary, part-time and leave replacement, were invited to attend this welcome dinner, to meet the veterans and retirees.

Felicio welcomed "… our newest members to the Connetquot Teachers Association. They are joining an outstanding group of professional educators whose main goal is to provide a quality education, in a supportive and healthy learning environment. We wish our newest members the best of luck, as well as a long and satisfying career in Connetquot."

Congratulations, and best of luck to the newest members of the CTA family: Patricia Koster, Catherine Dolan, Alicia Ankudavich, Nancy Coleman, Edward Cuff, Mary Goldacker, Megan Grimes, Lauren Halverson, Cristin Hammel, Donna Leopardi, Eugene Lubliner, Grian Majeski, Kyle McCarthy, Laurie Morris, Stephanie Plochochi, Jonathan Pope, James Raynor, Sally Anne Rexach, Jaclyn Salerno, Kristina Sarni, Michele Yirce and Brooke Zaiff.
photo by Joseph Maniaci