November 6, 2013
EDUCATORS AND PARENTS JOIN FORCES TO CRITICIZE N.Y. STATE SENATE COMMON CORE IMPLEMENTATION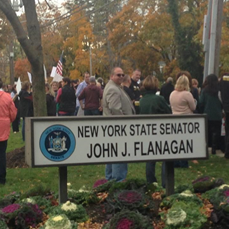 CTA President Anthony Felicio, Jr., is seen at the rally at NY State Senator John Flanagan's office.
Ronkonkoma, NY --- On Friday, November 1st, Connetquot teachers and parents joined hundreds of other education advocates, including administrators and board of education members, at the office of New York State Senator John Flanagan. The purpose of the assembly was to send a clear message to Senator Flanagan that the choices that the State Education Department has made, are unacceptable, and hurting our children.

Senator Flanagan is the chair of the NY State Education Committee. "Under his leadership this committee has failed to protect our children from the high stakes testing, and poor implementation of the Common Core," said Connetquot Teachers Association (CTA) President Anthony Felicio, Jr. "Senator Flanagan has refused to acknowledge the very big problems that his support of Common Core and high stakes testing have wrought upon our public schools, and the detrimental effect both are having on our children."

Senator Flanagan has refused to allow a number of legislative bills to come out of his committee, for debate and a vote. Felico continued, "What a great feeling it is for us to be a part of something so important, on behalf of our kids, that is widely supported by all segments of the educational community. Special thanks to those Connetquot parents, and teachers, who took the time to join us and show their support."

Felicio also singled out members of the CTA Board of Directors Dr. Brad Lindell and Chris Dolce, as well as building representatives Paul Rondinella, Jennifer Ronayne and Joanne Ianne for their support.