May 23, 2013
CONNETQUOT TEACHERS ASSOCIATION SUPPORTS CHILDRENS CENTER AT THE COHALAN COURT COMPLEX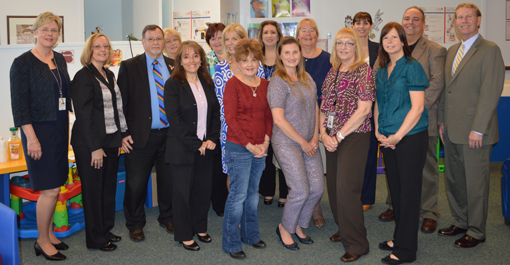 Children's advocates taking part in the May 22nd Bagels and Books Breakfast were: (l-r) Cheryl Zimmer (co-Chair Advisory Committee for the Children's Center), Kathy Lojudice (District Court), Mark Lewis (VP Criminal Bar Association), Lynn Reddy (Catholic Charities), Andrea Ramos-Topper (EAC Regioinal Director), Sue Fox (District Court Advisory Board co-Chair), Marion Tinari (Court Attorney-District Court Administrative Judges Office), Barbara Quinn (Children's Center Volunteer), Kathy Meyer (District Court Advisory Board), Sue Coleman (Children's Law Bureau), Rebecca Bell (EAC – VP), Wendy Meyer (Children's Center Head Teacher), Melissa Mercurio (Legal Aide Society), Lisa Verticho (EAC Program Aide), Tony Felicio, Jr. (Connetquot Teachers Association President), C. Randall Hinrihs (Suffolk County District Administrative Judge)
Ronkonkoma, NY --- On May 22nd Connetquot Teachers Association (CTA) President Anthony Felicio, Jr., packed several shopping bags with brand new children's books, and stopped by the Children's Center at the Cohalan Court Complex in Central Islip. Felicio was again invited to attend the Children's Center Bagel & Books Breakfast along with other childrens' advocates who have partnered with the Education and Assistance Corporation (EAC).

The EAC operates the Children's Center which provides a safe area for youngsters while families are involved in court proceedings. The center is open 5 days per week, from 9 A.M. to 1 P.M. under the supervision of Head Teacher Wendy Meyer. This year alone, the Children's Center has been a safe, and comforting, place for over 1,100 youngsters to spend time while their parents are in court.

Books and supplies are collected, and donated, by members of the CTA throughout the year. Teachers from the 11 schools within the district provide books, small toys, healthy snacks, bottled water and fruit juices, tissues and paper towels to be used by the children who spend time at the center. The CTA has also provided hundreds of hats, scarves and gloves, along with the books and supplies. Mrs. Meyer explained that when children leave for the day, they are given a new book of their own to take home, as well as hats, gloves and scarves in the winter season.

As Felicio was introduced by Advisory co-Chair Cheryl Zimmer he said that "… it's always a pleasure to attend the Bagel & Books Breakfast and hear about the wonderful work they do, and the effect they have on the children they work with. It is gratifying for the members of the Connetquot Teachers Association to be a small part of the program's success. I will pass along to our members that their unofficial 'adoption' of the Children's Center is greatly appreciated by the staff, and fellow supporters."

The CTA has pledged its continued support for the youngsters that need the resources we can provide. The Children's Center at the Cohalan Court Complex is an important part of the CTA's mission of community support.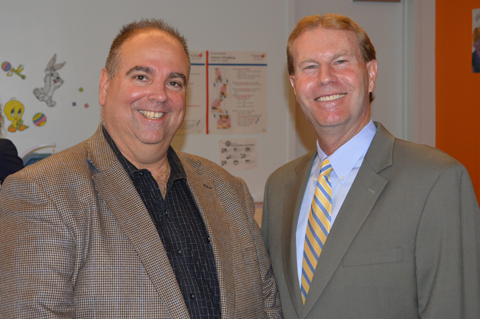 Suffolk County Administrative Judge C. Randall Hinrihs discusses the positive effect that the Children's Center, and CTA support, has had on the youngsters it serves.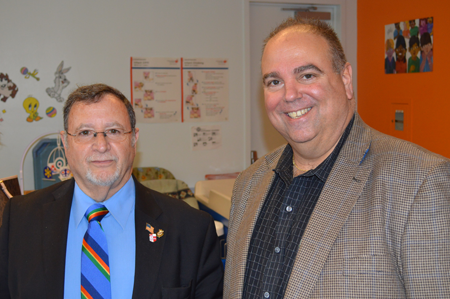 Felicio talks to fellow childrens' advocate Mark Lewis, VP of the Criminal Bar Association.
(photos by Joseph Maniaci)