March 7, 2013
CONNETQUOT TEACHERS SUPPORT EJ BOSTI FROM THE HEART – THANK YOU DINNER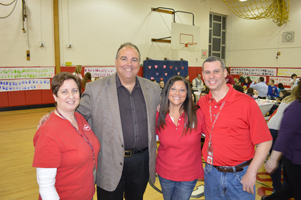 Diane Boyle, Tony Felicio, Jr., Laura Chiarelli and Jordon Volper volunteered to help say 'thank you' to the families of the EJ Bosti community.
Bohemia, NY – Connetquot Teachers Association President Anthony Felicio, Jr., recently attended an event organized by the administration, staff and PTA of the Edward J. Bosti Elementary School in Bohemia, NY. A very special 'From the Heart' dinner was arranged by Bosti Principal Dr. Lisa Ihne for families of that community, to thank them for all they do for the students. Connetquot teachers volunteered to prepare and serve dinner, beverages and dessert for the March 5th event.

Mr. Felicio said "I want to thank Dr. Ihne for inviting me to participate in this wonderful event, to thank the Bosti community for it's support throughout the year. I would also like to thank the teachers of the Bosti Elementary School for helping to make the night such a success."

The enthusiasm with which the teachers supported this 'From the Heart' event is evidence that, through mutual respect, professionalism, and working together to benefit students, wonderful events such as this can be achieved.

Congratulations to Dr. Ihne and Edward J. Bosti Elementary School teachers for volunteering to give up their free time, to give back to the community.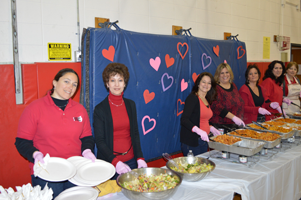 CTA volunteers prepared and dished out tasty Italian dinner for families of the Bosti community.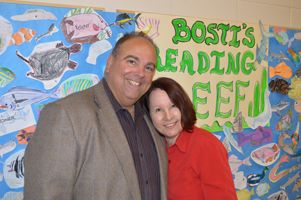 CTA Presdient Tony Felicio, Jr., thanks Maureen Striffler for her help in making this 'From the Heart' dinner such a success.
(photos by Joseph Maniaci)