October 7, 2013
CONNETQUOT TEACHERS ASSOCIATION MEMBERS
'MAKE STRIDES AGAINST BREAST CANCER'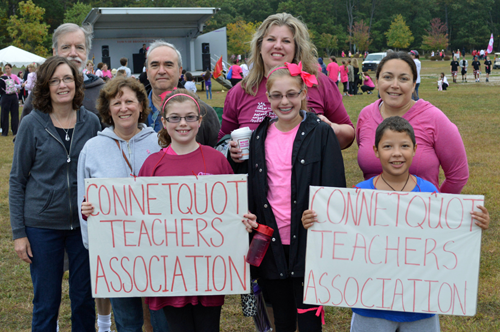 Connetquot Teachers Association members, spouses, children and friends joined in the October 6th march to fight breast cancer.
Ronkonkoma, NY --- Teachers, spouses, parents and students representing the Connetquot Teachers Association (CTA) took part in the annual 'Make Strides Against Breast Cancer' Walk at the Brookhaven campus of Dowling College, on October 6th. Organized by CTA members Joanna McManaman and Lisa Manzo, the Connetquot contingent was part of the organization's effort to reach its goal of $1,500 to help fight breast cancer. According to CTA President Anthony Felicio, Jr., "The Connetquot Teachers Association was proud to take part in, and again support the Making Strides Against Breast Cancer Walk. Thanks to our two organizers, Lisa Manzo and Joanna McManaman for their continuing efforts on behalf of this worthy cause."

Since 1993, more than 9 million walkers across the U.S. have raised close to $600 million to help fight breast cancer through Making Strides events. In 2012 alone, one million walkers across America raised $68 million to continue the fight against breast cancer. According to Anne Thorsen, Dirctor of Special Events for the American Cancer Society, "… the funds raised at these events continue the fight to end breast cancer."

The American Cancer Society (ACS) program helps people take steps to reduce their risk of breast cancer, and educates women on methods of early detection. The ACS invests in research to find, prevent, treat and cure the disease. The organization also provides free information and services to help people facing breast cancer today, and ensure access to mammograms for women who need them.

Felicio praised the efforts of Thorsen and her organization, and thanked the Connetquot community for it's generous support in the fight against breast cancer.
photo by Joe Maniaci