December 6, 2013
CONNETQUOT TEACHERS AND STUDENTS JOIN
FORCES TO SUPPORT ASPCA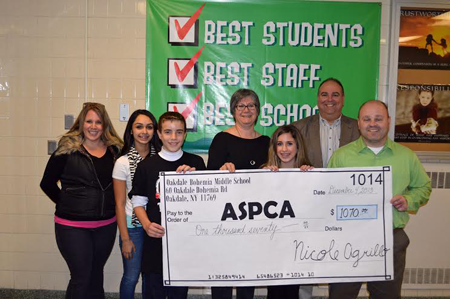 (l-r) Mrs. Agrillo, Brianna Gonzalez, Michael Agrillo, Mrs. Perz, Nicole Agrillo, CTA President Tony Felicio, Jr., and Mr. Burger with a check that will be presented to the American Society for the Prevention of Cruelty to Animals.
Bohemia, NY --- On Wednesday, December 4th Connetquot Teachers Association (CTA) President Anthony Felicio, Jr., met with 9th grade student Nicole Agrillo and teachers at Oakdale-Bohemia Middle School (OBMS). Ellen Perz and Rob Burger represented the OBMS teachers who coordinated a program to support Nicole Agrillo's efforts to raise money for the American Society for the Prevention of Cruelty to Animals (ASPCA). A check in the amount of $1,070 will be presented to the ASPCA on behalf of Nicole Grillo, and OBMS teachers.

CTA President Anthony Felicio, Jr., said "I would like to thank and congratulate the OBMS teachers for donating the money raised on 'Dress Down Fridays' to Nicole Agrillo and the ASPCA. This effort is another example of the Connetquot teachers' involvement in the community, and our support of students and projects that are important to them. Thanks to Nicole, and all of the people who participate in the ASPCA mission to protect animals."

Dress Down Friday was initiated several years ago by teachers at OBMS and serves as a fund-raiser for a variety of causes. Teachers contribute to a fund on Fridays which 'allows' them to 'dress down' in more casual clothes. Teachers then discuss to whom the funds will be donated on behalf of the OBMS educators.

The ASPCA was founded in 1866 on the belief that animals are entitled to kind and respectful treatment at the hands of humans, and must be protected under the law. It is one of the largest such organizations in the world. Thanks to Nicole Grillo and OBMS teachers, the work of the ASPCA will continue to protect America's animals.
photo by Joe Maniaci