November 24, 2012
CONNETQUOT TEACHERS HELP WITH THANKSGIVING DINNER AND CONTINUE HURRICANE RECOVERY SUPPORT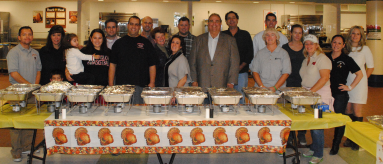 CTA President Tony Felicio, Jr., and VP Dr. Brad Lindell (8th & 7th from the right), join association members who volunteered to bring a bit of Thanksgiving spirit to community residents.
Ronkonkoma, NY --- For the weeks that followed the devastation of Hurricane Sandy Connetquot teachers volunteered to help members of the community through the heartache and recovery. Currently there are 20 Connetquot families that have been displaced as a result of the damage to their homes and property, particularly in the Idle Hour area of Oakdale. Members of the Connetquot Teachers Association (CTA) have stepped up to work with student groups, community PTA's and other volunteer agencies to provide physical, emotional and financial support for the families affected.

On Tuesday, November 20th, more than two dozen teachers volunteered to join members of the high school Student Government Club, and other volunteers, to serve Thanksgiving dinner, at the high school, to district residents. CTA President Tony Felicio, Jr., said that "Connetquot Teachers were proud to work alongside our high school students by serving dinner to members of the community affected by the hurricane. I would like to thank everyone who volunteered to help with this event, especially club advisors Sal and Jenn Piscatelli. I hope that we have helped those families adversely affected by the recent storms, and that they will have brighter days ahead."

Most recently, Connetquot teachers have volunteered to collect, sort and distribute needed supplies of clothing, food and water. Teachers, many of whom live in the Connetquot School District, also used their demolition, and construction, skills in helping neighbors recover from the damage of recent storms.

Felicio again encourages community residents affected by the storms to contact the CTA office at (631) 676-3061 for a Relief Committee application. Just days after the hurricane struck the area, the CTA created a $15,000 emergency fund to provide support for community residents.
(photo by Joseph Maniaci)