January 19, 2012
TEACHERS FOR TYLER
Ronkonkoma, NY --- On January 19th, at Ronkonkoma MS, Connetquot teachers and members of the community joined forces to support Tyler Ponzio and his family. At an exciting event organized by CTA members Dee Kirwin and Cathy Mongiello over 250 students, teachers and members of the community enjoyed a spirited series of contests pitting one group of teachers against another! Connetquot Teachers Association President Tony Felicio, Jr., was there to cheer on the teachers' efforts to support Tyler.
Tyler Ponzio is a 9th grade honor student at Connetquot HS, and outstanding athlete, who was recently diagnosed with Hodgkins disease. This 'Teachers for Tyler' event was the first of several fund-raisers designed to show strength and support for Tyler's struggle to fight the disease, and provide financial support for the family's mounting hospital expenses.
RMS teachers competed in a number of athletic events which included the traditional three-legged race, basketball free throws, 'sneaker frenzy' and tug-of-war. Students and friends cheered for their favorite teachers, and teams (red-or-white) enjoying the fun afternoon, while sending Tyler their positive thoughts and prayers. Ty and his parents were unable to attend this event as he was undergoing chemotherapy at Stony Brook University Hospital.
Cathy Mongiello said that "… we already sold out of the t-shirts and bracelets we had at RMS in one day! We thank the students, teachers, and the entire Ronkonkoma community for their support of Tyler and his family". A foundation has been set up to support Ty and his family, and a pancake breakfast is being sponsored by the Lacrosse Booster Club. T-shirts and bracelets are also being sold by Connetquot teachers at the high school, along with purple hair extensions! Purple is the color of Lupus and Lymphoma Society.
CTA President Tony Felicio, Jr., praised the Ronkonkoma MS teachers for their support of Tyler and his family. Over $2,500 has already been raised to support Tyler's recovery. Felicio encourages the CTA membership to keep Tyler in their thoughts and prayers.
Click Here for CBS News report
Click Here for Fox News report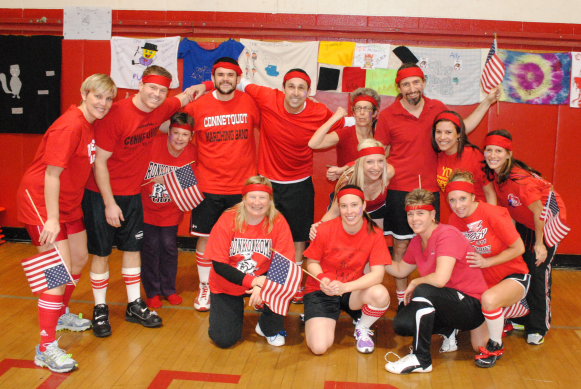 RMS teachers Red Team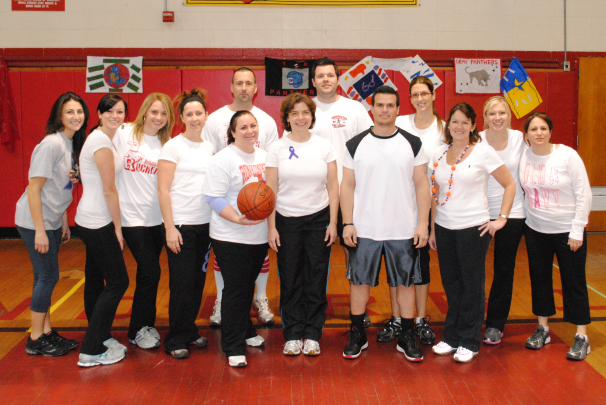 RMS teachers White Team
(photos by Joe Maniaci)