February 3, 2012
ARTHUR PREMM TEACHERS DEVELOP SUPER BOWL ACTIVITES FOR THEIR STUDENTS
Oakdale, NY --- On February 2nd, CTA President Tony Felicio, Jr., had the opportunity to take in the Super Bowl festivities at the Arthur Premm Alternative pre-school. The program, designed by Premm's veteran teachers, involved developing fine motor skills, as well as stretching, exercise, passing, running and 'TD Celebration' skills!
Teachers and students showed their 'team spirit' by wearing their Giant football jerseys, creating and coloring their own 'football helmets', and spirit posters. Students started the day with a reading from former Giant Tiki Barber's book 'By My Brother's Side', and watched a video starring Holtsville Hal. Long Island's famous groundhog didn't see his shadow, and predicted an early spring.
Students created their own colorful paper footballs, and using yarn, threaded the laces, working on their motor skills. The young Super Bowl fans then proceeded to the school's cafeteria where several skill stations were set up for the youngsters to practice their football skills, have some fun and just 'let loose'! Teachers Cheryl Hausle, Pam Leigh and Jenn Magnusson demonstrated their own football skills, and support for 'Big Blue'!
'Miss Cheryl' led the way as she explained each station: the first one had the students stretching and exercising; the next station allowed the students to practice 'hiking' the football and passing to their teammate; next was the obstacle course which allowed the students to demonstrate their 'game' faces as they ran around colorful cones with the football, and did their own TD dance when they finished; another station provided the students with the chance to kick field goals, and the last one gave them the chance to imitate the Giants' Eli Manning's passing ability.
CTA President Tony Felicio, Jr., was pleased to take part in Premm's Super Bowl Day and said that
" … again we have the example of Connetquot teachers plannning learning activities that enrich their students' lives, encourage learning, and help kids have fun. Congratulations to the teachers at Premm for a job well done!"
This exciting Super Bowl activity was a learning experience for the students, and just a joy for all to take part in. The event was covered by News12, CBS-2 and Newsday. The youngsters, and teachers, had a chance to exercise, work on their football skills, and get ready for the weekend's big game! Go Big Blue!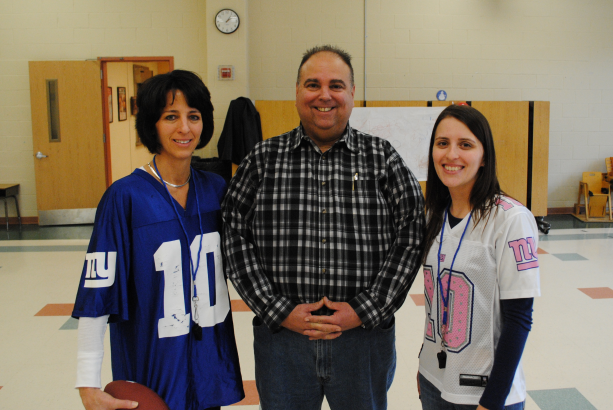 Tony Felicio, Jr., congratulates CTA members Pam Leigh and Cheryl Hausle for developing Premmís Super Bowl Day activities!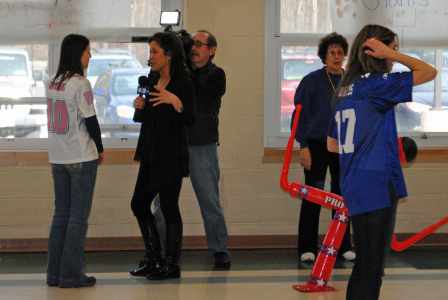 Cheryl Hausle being interviewed by CBS-2 Cindy Hsu.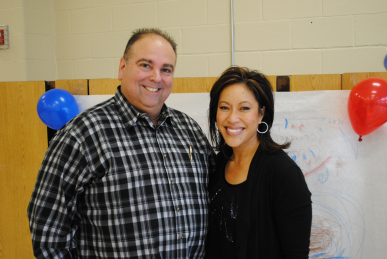 CTA President Tony Felicio, Jr., meets with CBS-2 reporter Cindy Hsu to talk about the Super Bowl Day activities.
(photos by Joseph Maniaci)