May 22, 2012
CONNETQUOT COACH BILL SANTORO INDUCTED TO
NATIONAL WRESTLING HALL OF FAME
Ronkonkoma, NY --- Connetquot Teachers Association President Anthony Felicio, Jr., recently met with retired Connetquot teacher Bill Santoro to offer congratulations on his April 27th induction to the National Wrestling Hall of Fame, which is located in Stillwater, Oklahoma. As a former wrestling assistant to Coach Bill Santoro, Felicio has great respect for his dedication to his students, and athletes. Santoro ranks #1 in seniority among Suffolk County wrestling coaches having completed 34 consecutive years as Connetquot's varsity coach.
Santoro has coached 80-All-County Wrestlers, 14-Suffolk County Champions, 11-All-New York State Wrestlers, 2-New York State Champions and five All-Americans! Santoro retired from the classroom in June 2011 after a 40 year career as an Earth Science teacher at Oakdale-Bohemia Middle School. Dedicated to his students, he had perfect attendance in 32 out of 40 years, including one streak that ran for 24 consecutive years!
Felicio added " … Bill Santoro is the epitome of professionalism. His dedication to his student/athletes along with his passion for excellence in the classroom and wrestling room are exemplary. It was an honor to be a coach in his wrestling program as well as a colleague of his here at Connetquot, during my 30 years. I wish Bill well in his retirement and congratulate him on being one of Connetquot's finest."
Despite all this success Santoro's greatest joy has been seeing his players grow up. Watching his players graduate and join the coaching fraternity has been very rewarding as well. Santoro can look around Long Island and see 17 of his former Connetquot wrestlers teaching their players some of the important lessons they learned on the mats in Bohemia.
Congratulations again to Connetquot's National Wrestling Hall of Fame Coach: Bill Santoro!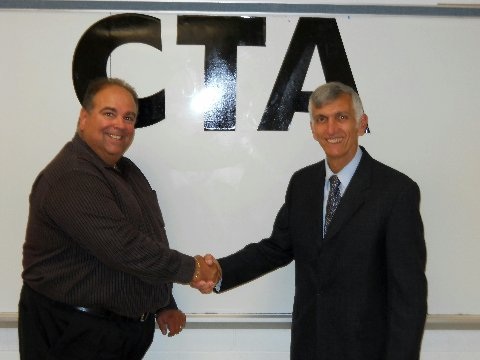 CTA President Anthony Felicio, Jr., ( L) congratulates Coach Bill Santoro on his induction to the
National Wrestling Hall of Fame
(photo by Joseph Maniaci)