November 17, 2012
CONNETQUOT TEACHERS JOIN COMMUNITY AGENCIES TO PROVIDE HURRICANE RELIEF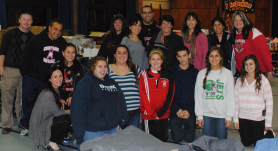 Connetquot teachers and members of the high school's Student Government Association joined forces to assist in the distribution of supplies to residents of the Oakdale community, at the Idle Hour Elementary School.
Ronkonkoma, NY --- Connetquot Teachers Association (CTA) members have joined forces with members of the district's communities to provide relief to those who have suffered at the hands of recent heavy winds, rain and coastal flooding. CTA President Mr. Tony Felicio, Jr., has called for the support of his members to provide tangible resources, as well as volunteers with construction, and demolition, skills to make themselves available.

CTA members worked with members of the Connetquot High School Student Government organization to collect, sort and help distribute donated necessities throughout the district. On Saturday, November 10th the organization set up a 'relief support' table at Connetquot High School's football playoff game against Ward Melville HS – which the 'Thunderbirds' won 39 – 7! The volunteers collected seven pallets of food items which were then distributed to members of the community.

Felicio was proud of the "… great outpouring of support from our community, to our community. The CTA is proud to be a part of such a supportive community effort. Connetquot teachers stand ready to help get the families of our community through the tough days ahead of them." Connetquot teachers joined other district volunteers, including school PTA's, in providing assistance throughout the area, especially the hardest-hit community of Idle Hour, in Oakdale.

On Wednesday, November 14th, CTA members volunteered to serve dinner, and help distribute supplies, at the Idle Hour Elementary School. On Thursday, November 15th, Connetquot teachers volunteered to help serve dinners to residents of the district, which was provided by the Applebee's Restaurant chain, and held at the Oakdale-Bohemia Middle School.

Felicio went on to say that "We all need to remember that as most of us begin to regain normalcy in our lives, so many in our community have been displaced, or have suffered significant damage to their homes. We need to remember that normalcy for those families remains weeks, perhaps months, away. There continues to be much work for us to do to help them."

Anyone who would like to join with the CTA in this effort can contact Mr. Felicio at (631) 676-3061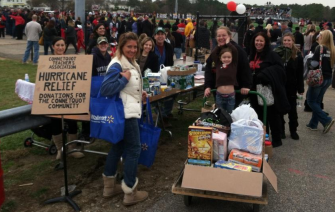 Connetquot Teachers set up a 'Hurricane Relief' table at the November 10th football game vs Ward Melville..
(photos by Joseph Maniaci)