December 11, 2012
CTA PRESIDENT ATTENDS RC21 TEACHERS RETIREMENT LUNCHEON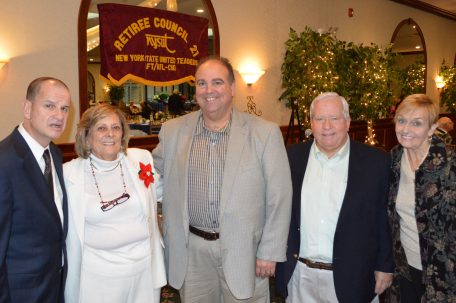 (l-r) NYSUT Secretary Treasurer Lee Cutler, RC21 President Joan Perrini, CTA President Tony Felicio, Jr., Connetquot Chapter President Peter Leis and RC21 Representative Marilyn Aitken.
Ronkonkoma, NY --- On Tuesday, December 11th, Connetquot Teachers Association (CTA) President Anthony Felicio, Jr., was invited to attend the annual RC211 Teachers Retirement luncheon which was held at the Westlake Inn, Patchogue. RC21 President Joan Perrini welcomed the assembled retirees from the Bay Shore, Bayport/Bluepoint, Brentwood, Central Islip, Connetquot, East Islip, Hauppauge, Islip, Sayville and West Islip school districts. The guest speaker for the luncheon was Lee Cutler, New York State United Teachers (NYSUT) Secretary-Treasurer.

Cutler and Perrini addressed topics important to retired, and current, educators, including pending legislation, medical insurance coverage, and future events and seminars. Conferences such as this allow attendees to stay current on important issues, as well as enjoying the social aspect of 'catching up' on the news.

Felicio had the opportunity to mingle with the organization executives, share ideas with NYSUT's Lee Cutler, and spend time with retired Connetquot teachers, and old friends. As the luncheon came to an end, and the raffle prizes were distributed, members offered best wishes for a special holiday, and promises to meet again next year.
(photo by Joseph Maniaci)