November 14, 2012
CONNETQUOT TEACHERS ASSOCIATION COMMITS $15,000 FOR COMMUNITY MEMBERS AFFECTED BY HURRICANE
Ronkonkoma, NY --- At a November 13th meeting of the Connetquot Teachers Association (CTA) a motion was introduced, and passed unanimously, to create a $15,000 emergency fund for community members affected by the recent hurricane. According to CTA President Mr. Anthony Felicio, Jr., "… the organization is joining forces with the entire community to do what we can to relieve some of the pain caused by this recent devastating weather. The CTA is asking that any community family affected, or someone who knows of a family affected, by the recent weather to contact us at 631-676-3061."

Applications for assistance will be reviewed by the Relief Committee of the CTA to determine what support can be provided. Additionally, Felicio is seeking further donors to contribute to this Relief fund. For more information related to applications for aid, or to donate to the fund, contact the CTA office in Ronkonkoma, NY.

The CTA has been working with the students and PTA's within the Connetquot School District since the hurrricane, to collect, sort and distribute food, water, clothing, blankets, paper products and toiletries to families within the community.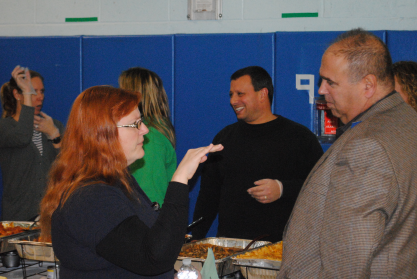 CTA President Anthony Felicio, Jr., (r) talks to a representative of the Federal Emergency Management Agency (FEMA) at a recent Relief Dinner at the Idle Hour Elementary School.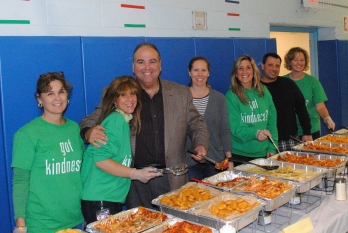 CTA President Anthony Felicio, Jr., (3rd from left) thanks these teachers for volunteering to serve meals at a recent Relief Dinner in Oakdale.
(photos by Joseph Maniaci)