October 25, 2012
CONNETQUOT TEACHERS ASSOCIATION ORGANIZES
RALLIES TO EDUCATE NY NOW!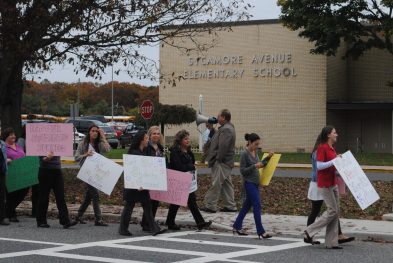 Ronkonkoma, NY --- On Thursday afternoon, October 25th, Connetquot teachers and parents took part in a state-wide effort to Educate NY Now! Connetquot Teachers Association (CTA) President Tony Felicio, Jr., organized rallies at four of the district's 11 schools in an effort to "… demand that our state government fulfills New York's Constitutional obligation to provide all students with a quality education." The CTA recently joined Educate NY Now, a coalition that unites parents, students, educators, administrators, unions, school board members, community organizations, civil rights groups and education advocates.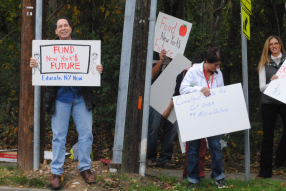 Felicio believes that "Public education is under attack. Aid to school districts has been cut, class sizes have grown, school buildings have closed and important programs have been eliminated." Statistics show that New York state funding for education is less now that it was four years ago. Long Island schools alone have lost $715 million in aid in just the last three years. "The combination of reduced state aid and the tax cap will force schools to continue making cuts which will affect the quality of education", continued the CTA President.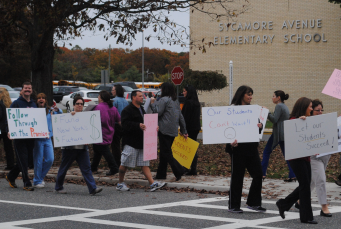 According a 2011 Rutgers University study, New York ranks 44th in the nation in education funding equity. Throughout New York State, members of Educate NY Now are working together in a campaign to make sure Albany fixes the current problems. The Connetquot Teachers Association supports the following Principals for Educate NY Now by calling for New York's elected leaders to:

- Prioritize successful student achievement instead of undermining the quality of our schools.

- Ensure educational equity that all students have access to a high quality education that opens up personal and economic opportunities for them, and benefits the future of NY. Prepare all students for college or other post-secondary education, careers and life.

- Support public education as an engine for economic growth. Reverse the numerous cuts to the quality of education that our schools have been forced to implement.

- Fulfill the moral, economic and constitutional imperative to provide every student a 'sound, basic education."

CTA President Tony Felicio, Jr., and Vice President Dr. Brad Lindell, thanked the teachers and parents who attended today's rallies and encouraged them to spread the word to their friends and neighbors. With the November elections coming up, it will be important to let our elected officials know that we need to restore their commitment to New York's students.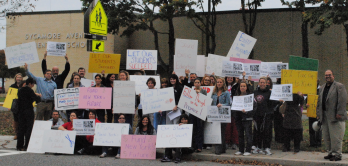 CTA President Tony Felicio, Jr. (right) thanked the teachers and parents that took part in this rally at the Sycamore Elementary School in Bohemia. He reminded them of the important role they have in convincing NY State officials to restore the severe cuts in education that have hurt Connetquot's students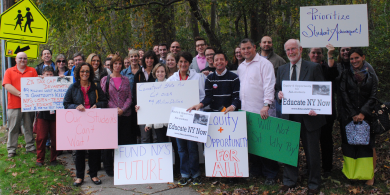 Connetquot Teachers Association members and parents took part in the Educate NY Now rally at Ronkonkoma Middle School, in Ronkonkoma. CTA Vice President Dr. Brad Lindell (back/left) and NY State United Teacher (NYSUT) Regional Staff Director Vinny Lyons (far right) encouraged everyone to spread the word to their friends and neighbors.

(photos by Joe Maniaci)