December 4, 2012
IB LUNCHEON AT THE HIGH SCHOOL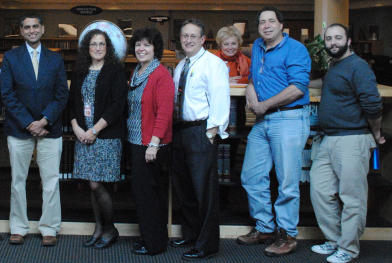 Pictured left to right: Mr. Misra, Ms. Burger (Asst. Principal), Ms. Wilhelmy (Guidance Counselor), Mr. Sidman (Asst. Principal), Dr. Garland (Social Studies Dept. Chairperson), Dr. Lindell (School Psychologist & Vice-President CTA), Chris Dolce (Math Teacher & Vice-President CTA)
Bohemia, NY --- On December 4, 2012, Connetquot High School hosted a luncheon for Asheesh Misra, who represents the International Baccalaureate Organization. His assignment is to help us through the difficult authorization process.

The International Baccalaureate was founded in Geneva, Switzerland in 1968 as a non-profit educational foundation. There are 1,400 IB World Schools in the United States, and Rockville Centre, Garden City, Commack, Northport, Bay Shore, Long Beach, Hauppauge and West Islip are among them. Next year, Connetquot hopes to join that prestigious list.

The IB is more than its educational programs and certificates. It is motivated by a mission to create a better world through education. IB values its hard earned reputation for quality, for high standards and for pedagogical leadership, and they have achieved their goals by actively involving stakeholders, particularly teachers. They promote intercultural understanding and respect, not as an alternative to a sense of cultural and national identity, but as an essential part of life in the 21st century. The International Baccalaureate aims to develop inquiring, knowledgeable and caring young people who help to create a better and more peaceful world through intercultural understanding and respect.
(photo by Joseph Maniaci)