April 17, 2012
HARVARD CLUB OF L.I. NAMES TWO FROM CONNETQUOT AS DISTINGUISED TEACHERS
Ronkonkoma, NY --- Judith B. Esterquest, Treasurer of the Harvard Club of Long Island (HCLI), recently notified two of Connetquot's senior teachers that they had been named Distinguished Teachers by the HCLI. Mrs. Janice Fisher (Connetquot HS) and Mrs. Mary McGonnell (Oakdale-Bohemia Middle School) were two of only 12 teachers selected from among the professional staff of 125 school districts on Long Island!
Both teachers had been nominated by Harvard student, and Connetquot graduate, Zarmeena Dawood. Janice Fischer and Mary McGonnell were selected because they "… made the greatest difference …" in Zarmeena's life, and laid the groundwork for her acceptance to Harvard University.
Harvard University receives more than 700 applications from Long Island students each year, and 35,000 globally. Of those, only 6% of applicants are accepted, and the HCLI recognizes the efforts of Long Island educators. In a letter to both teachers, Ms. Esterquest added "… Harvard students recognize excellence because excellence has gotten them where they are. They know what's good – and what's superb. We would like to formally commend you as a Harvard Club of Long Island Distinguished Teacher."
Mrs. Fisher and Mrs. McGonnell were formally recognized at the Harvard Club's University Relations luncheon on March 31st.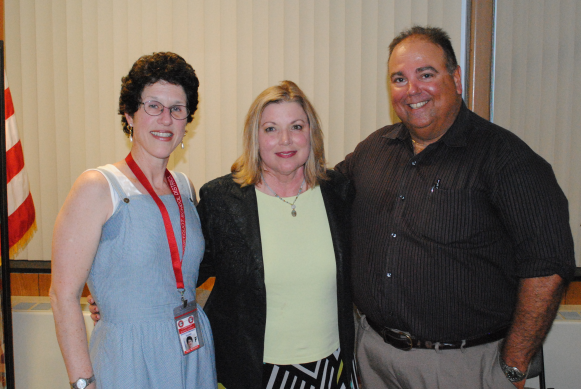 CTA President Tony Felicio, Jr., congratulates Mary McGonnell (OBMS) and Janice Fischer (CHS) on their selection as Harvard Club Distinguished Teachers for 2012.
(photo by Joseph Maniaci)