February 9, 2012
CONNETQUOT TEACHERS JOIN HABITAT FOR HUMANITY 'BUILD' IN CENTRAL ISLIP
Ronkonkoma, NY --- On February 8th, Connetquot Teachers Association (CTA) President Tony Felicio, Jr., joined Habitat for Humanity Club advisor Jason Wilans on a trip to Central Islip to help build a home for the Arevalo-Quezada family of Freeport, NY. Wilans brought along 12 student volunteers and several additional teachers to begin work on this Habitat for Humanity home. Long-time construction volunteer Charlie Trupia, a member of the Habitat's Board of Directors, and a veteran Social Studies teacher at Connetquot HS, also worked on this Habitat 'build'. This Central Islip project is one of more than a dozen homes that will be built and made available to needy Suffolk families this year.
The new homeowners, Andrew Arevalo, his sister Cassandra and their mom, were on hand to thank the Connetquot volunteers, and to work alongside them on the first construction day. The family will take ownership of the home upon completion of a number of qualifying tasks including classes in community service and volunteering to work on other Habitat homes. The event was covered by news crews from News12, FIOS, TV55 and Newsday.
Connetquot's Habitat for Humanity Club has already raised, and donated, $12,000 to Suffolk Habitat this year. According to Jason Wilans the funds are used to buy materials necessary for home construction. This school year Wilans arranged for the first annual Santa 5k Fun Run which was held at Connetquot HS on December 11th. More than 400 runners registered for this inaugural race, which raised the first $10,000 for Suffolk Habitat.
Suffolk Habitat helps people in need of decent, affordable, housing who meet income guidelines. Through volunteer labor and donations, the organization builds simple, affordable homes with the assistance of the homeowner (partner) families. The homes are sold to the partner families at no profit and financed with affordable, no-interest loans. These homeowners are also expected to invest 270 hours of 'sweat equity' (their own labor) in their new home, and to make themselves available to work on other Habitat homes.
CTA President Tony Felicio, Jr., offered his " … congratulations to Mr. Jason Wilans for organizing today's Habitat 'build'. It was heart-warming to see the efforts of so many volunteers making such a difference in people's lives. The Association is proud of our teachers and what they do for the community.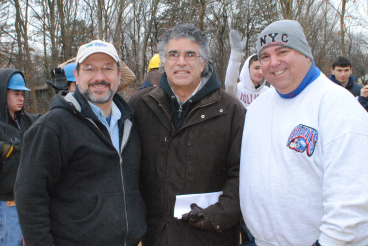 (l-r) Charlie Trupia, Habitat Director of Development Les Scheinfeld, and CTA President Tony Felicio, Jr.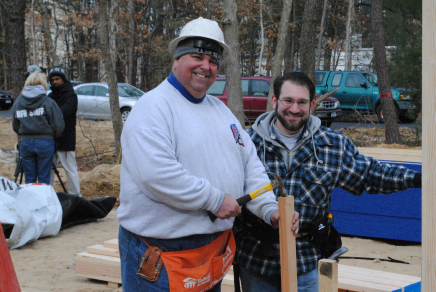 CTA President Tony Felicio, Jr., joins with Connetquot HS Habitat for Humanity Club advisor Jason Wilans
as a TV news crew records the progress of the 'build'.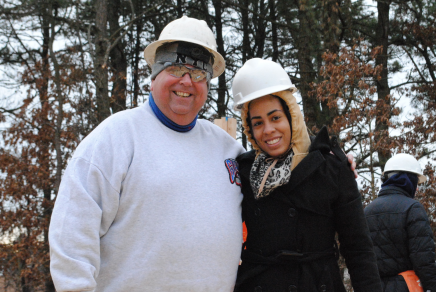 CTA President Tony Felicio, Jr., congratulates new homeowner Cassandra Arevalo.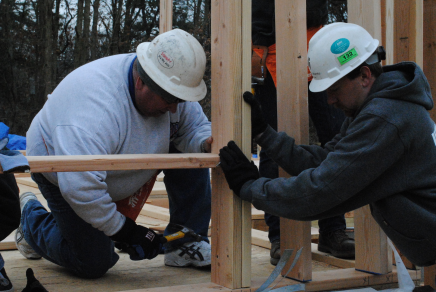 CTA President Tony Felicio, Jr., wields a hammer on the new Habitat CI home.
(photos by Joseph Maniaci)