December 15, 2012
CONNETQUOT TEACHERS ASSOCIATION SUPPORTS ST. JOHN NEPOMUCENE CHURCH FOOD PANTRY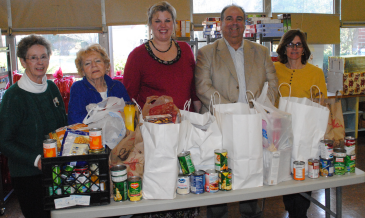 (l-r) St. John's volunteers Estelle Gervasio, Doris Centrangelo, CTA's co-Director of Community Outreach Mrs. Lisa Manzo, CTA President Tony Felicio, Jr., and volunteer Barbara Aylward (missing from photo: Joanna McManaman).
Ronkonkoma, NY --- Connetquot Teachers Association (CTA) President, Tony Felicio, Jr., was very pleased for the support of his membership in its latest community service project. Together with the Bohemia Historical Society (BHS), members of the CTA were asked to help replenish the Food Pantry at St. John Nepomucene Church in Bohemia, NY. Together with members of the BHS, Connetquot teachers collected, sorted and delivered a substantial amount of groceries to the Bohemia facility.

St. John Nepomucene Church Food Pantry regularly services close to 135 families weekly, throughout the year. The CTA effort will help the church continue its generous work in the community. Mr. Felico thanked the members of the Connetquot Teachers Association for their generous support of this year's holiday drive, as well as Sister Lisa Bergeron, who is the coordinator of St. John's Social Ministry. He also singled out CTA co-directors of Community Outreach, Mrs. Lisa Manzo, and Mrs. Joanna McManaman for their leadership in this year's food drive.

Mr. Felicio offered the Food Pantry continued assistance as needed, while the CTA continues its annual coat collection drive for the 2012 'Every Child's Dream' program. Members of the Connetquot community are asked to consider donating new, or gently used, coats, scarves hats and gloves for this year's effort.
(photo by Joseph Maniaci)