December 17, 2012
CONNETQUOT TEACHERS ASSOCIATION HELPS MAKE 7th ANNUAL 'EVERY CHILD'S DREAM' A REALITY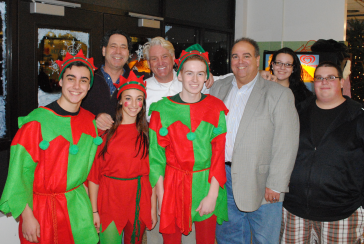 Every Child's Dream organizer Ken Mangan (back/center) is flanked by CTA Vice President Dr. Brad Lindell, CTA President Tony Felicio, Jr., Santa's elves, and volunteers Alexis and Alex Felicio.
Ronkonkoma, NY --- Connetquot Teachers Association (CTA) President Anthony Felicio, Jr., along with several members of the organization, joined with Mr. Ken Mangan for his 7th annual Every Child's Dream dinner which was held at Sayville HS on December 14th. Mangan, along with over 100 volunteers, hosted a very special night for over 700 invited needy neighbors. During the two dinner sittings guests were served snacks, a nutritious dinner and dessert followed by the opportunity to select from a variety of items collected for their use.

Felicio, along with CTA and Sayville volunteers, helped distribute coats, sweaters, hats, gloves, scarves, blankets and school supplies to needy neighbors. Santa was also on hand to provide gifts to the youngsters. This is the sixth year that Connetquot teachers have volunteered to support this very important Every Child's Dream event.

Felicio said "we are proud to be part of such a wonderful holiday event. Our thanks to the teachers who brought in so many cold-weather clothing items, blankets and school supplies for the homeless. A special 'thank you' to Lisa Manzo and Joanna McManaman, our Public Relations coordinators, for helping organize the CTA's support again this year." Invited guests were served on linen-covered tables, by waiters and waitresses wearing white gloves in two seasonably decorated cafeterias at Sayville High School. Suffolk's homeless and needy guests had the opportunity to select from thousands of pieces of gently used, as well as new, 'winter gear' that had been donated for their use.

Congratulations to Ken Mangan for his incredibly considerate efforts on behalf of Suffolk's homeless, and needy. The Connetquot Teacher's Association has been increasingly involved in community events, which includes financial support of local sports teams, collecting clothing for the needy, raising funds to fight cancer, and providing college scholarships for Connetquot CSD students.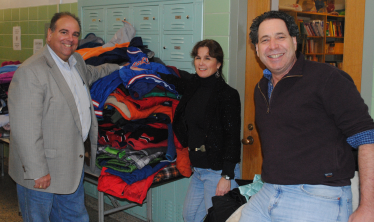 CTA President Tony Felicio, Jr. joins Lori Allen – Bauer and CTA Vice President Dr. Brad Lindell sorting and distributing warm coats to needy neighbors.
(photos by Joseph Maniaci)