October 18, 2012
CONNETQUOT TEACHERS ASSOCIATION SUPPORTS COHALAN COURT COMPLEX CHILDRENS CENTER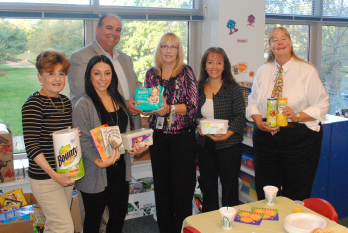 (l-r) Barbara Quinn (Children's Center volunteer), Jackie Melita (Teacher Ass't), Tony Felicio, Jr. (CTA President), Wendy Meyer (Head Teacher), Andrea Ramos-Topper (EAC Regional Director), Rebecca Bell (EAC Executive VP)
Ronkonkoma, NY --- Connetquot Teachers Association (CTA) President Tony Felicio, Jr., recently filled his car with cases of children's books, healthy snacks, bottled water and fruit juices, tissues and paper towels. He delivered those supplies to the Children's Center, located at the Cohalan Court Complex in Central Islip, NY. The supplies were donated by members of the Connetquot Teachers Association, and collected by the teachers at the 11 schools within the district.

Felicio was invited to attend the Children's Center Bagel & Books Breakfast on October 17th and join fellow children's advocates who have partnered with the Education and Assistance Corporation (EAC). The EAC operates the Children's Center which provides a safe area for youngsters while families are involved in court proceedings. The center is open 5 days per week, from 9 A.M. to 1 P.M. under the supervision of Head Teacher Wendy Meyer. Since January, 2012 alone, the Children's Center has been a source of comfort for more than 900 youngsters, and close to 600 families.

Felicio said that he was " … very proud of the Connetquot teachers who donated so many needed items to the Children's Center. Once again, our teachers answered the call, at a time of need, and through their generosity have helped sustain this wonderful organization, dedicated to helping kids. I would also like to single out Joanna McManaman and Lisa Manzo, the CTA Coordinators, for their dedicated efforts in organizing this drive."

In the past, Connetquot teachers have also provided hundreds of hats, scarves, gloves, books and toys to the Children's Center. Mrs. Meyer explained that when the children leave for the day, they are given a book of their own to take home and, as a result of the CTA's support, have also had the chance to provide them with a hat, gloves and a scarf. Connetquot teachers have pledged their continued support for the youngsters that need the resources provided by the Childrens Center.

EAC Regional Director Andrea Ramos-Topper announced that the date of the 2nd Annual Cohalan Cares for kids, hosted by the Suffolk Couny Bar Association, will be held on February 7th, 2013. For further information contact the Children's Center at 631-853-4509.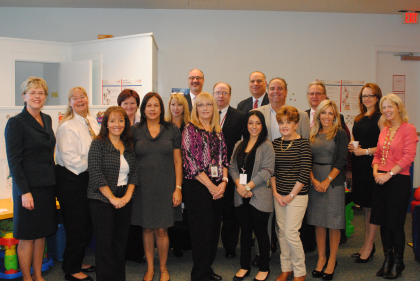 Children's Advocates recognized at the October 17th Bagels and Books Breakfast were: (l-r) Cheryl Zimmer (Co-Chair Advisory Committee for the Children's Center), Rebecca Bell (Executive EAC – VP), Andrea Ramos-Topper (EAC Regional Director), Sue Fox (District Court Clerk/Co-Chair Advisory Committee for the Children's Center), Beverly Salsivias, Leslie McLoughlin, Honorable Justice Richard Horowitz, Wendy Meyer (Children's Center Head Teacher), Warren Clark (District Executive), Jackie Melita (Children's Center Ass't Teacher), attorney Harry Tillis, Connetquot Teachers Association President Tony Felicio, Jr., Barbara Quinn (Children's Center Volunteer), attorney Wayne Schafer, attorney Kim Smith, attorney Tara Scully and Marion Tinari (Principal Law Clerk)
(story and photo by Joseph Maniaci)